Triple Modality 3D Abdominal Phantom - CIRS 057A
CT / Ultrasound / MRI Image Fusion - Live Scanning - Biopsy Training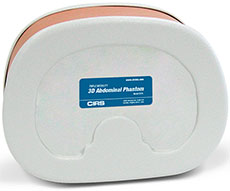 The CIRS Triple Modality 3D Abdominal Phantom is constructed of a self-healing formulation of Zerdine®(1) that allows multiple biopsy insertions with minimal needle tracking, and is ideal for demonstrating image-guided navigation technologies.
Abdominal imaging is useful for diagnosing disease and monitoring treatments. The Model 057A is representative of a small adult abdomen and can be imaged under CT, MR and ultrasound. This feature makes the phantom a useful tool for applications such as image fusion studies; imaging protocol developments; scan technique training; and system testing, validation and demonstration.
The Model 057A simulates the abdomen from approximately the thorax vertebrae (T9/T10) to the lumbar vertebrae (L2/L3) using simplified anthropomorphic geometry. The materials provide contrast between the structures under CT, MR and ultrasound. The solid polymer background gel will not leak when punctured.*
Internal structures include the liver, the portal vein, two partial kidneys, a partial lung, the abdominal aorta, the vena cava, a simulated spine and six ribs. The liver has six lesions and the kidneys each have one lesion. A muscle layer and outside fat layer surround these structures and plastic end caps make the phantom durable enough for extended scanning.
The Phantom includes a foam lined hard carry case. To accommodate image fusion techniques, CIRS can offer value-added options and services such as phantom specific CMM, reference CT or MRI data sets, attachment of customer specific registration devices and inclusion of special point markers.
Features:
Demonstrate CT, ultrasound and MRI scan techniques
Assess image fusion algorithms
Test new equipment
Validate automated biopsy systems
Optimize imaging protocols
Improve performance of freehand abdominal biopsies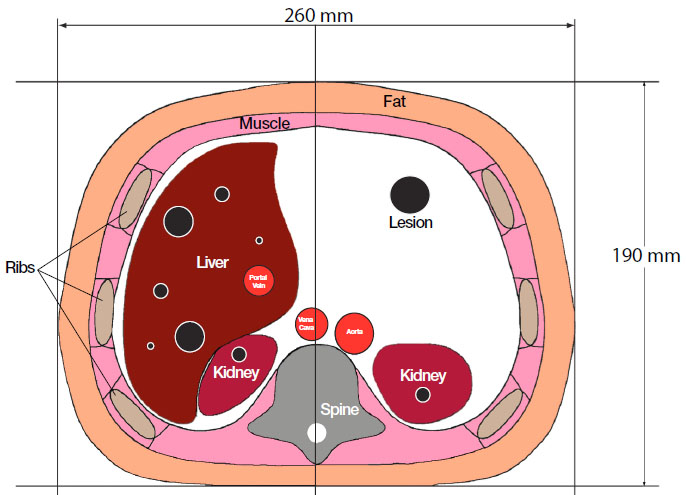 Specifications

Dimensions
26 cm x 12.5 cm x 19 cm (10.2" x 4.9" x 7.5")
Phantom Weight
11 lbs. (5kg)
Materials
Housing: ABS
Outer Fat Layer: Z-Skin™
Hard Tissue: Epoxy Resin
Lungs: Urethane
Other Soft Tissue: Zerdine® gel
Internal Organs
Liver with 6 lesions (2 each small, medium and large)
(2) Kidneys (1 medium lesion each)
(1) Spine
(1) Partial lung
(1) Portal Vein
(1) Vena Cava
(1) Aorta
(6) Ribs
Surrounding Soft Tissue (2 Large Lesions)
Model 057A Includes
Triple Modality 3D Abdominal Phantom
User Guide
12-Month Warranty
Optional Features
Model 035: CT DICOM Data set (Serial number specific, 1.5 mm slice thickness at 120 kpv)
NOTE: Some permanent tracking may be evident if debris and air bubbles are entrained in the gel during the biopsy procedure, so the use of higher gauge needles that have been wetted and de-aired prior to insertion is recommended to extend the lifetime of the phantom.