Multi-Modality Breast Biopsy and Sonographic Trainer - CIRS 073

Durable Training Phantom for Ultrasound, Mammography, X-ray, and MRI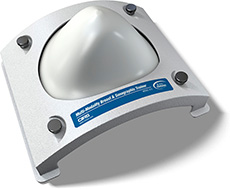 The Multi-Modality Breast Biopsy and Sonographic Trainer is designed to train users in various aspects of breast imaging and image-guided interventional procedures. The phantom accurately mimics the heterogeneous appearance of breast tissue under ultrasound, mammography and MRI, and has cystic and dense lesions embedded within the breast background. Half of the dense lesions are spherical and have a 100-300 micron microcalcification embedded within it, while the other half have a spiculated shape. In addition to helping users identify different types of masses in the complex structure of the breast, the calcifications are useful markers for image registration between modalities.
The phantom includes a flexible Z-Skin™ membrane that simulates the look and feel of skin during scanning and biopsy. The skin material closes up on itself after puncture with a needle, providing good protection from dessication even after multiple training sessions.
The material inside the phantom is formulated to minimize the effect of needle tracks while practicing biopsy techniques on the embedded masses. This material also has remarkable self-healing properties, and tracks will usually disappear within minutes (sometime seconds) of needle removal. Each cystic mass may be aspirated once and each dense mass may be biopsied multiple times.
Features:
Compatible with X-ray, Ultrasound, and MRI
Heterogeneous tissue to simulate imaging of human breast
Encased in flexible membrane for increased durability
Self-healing material for extended phantom use
Cystic, dense, high stiffness and attenuative masses for biopsy training

Model 073 Ultrasound

Model 073 Ultrasound

Model 073 MR T1 SE

Model 073 MR T2 FSE

Model 073 X-Ray Mammography
Specifications

Dimensions
12cm x 10cm x 9cm
(4.7" x 4" x 3.5")
Weight
0.4kg (1lb)
Size
500 cc
Membrane Material
Z-Skin™
Background Gel Material
Zerdine®-based emulsion
Cystic Masses
Qty: 5-10
Material: water with thickening agent and green dye
Size: 3 -10 mm in diameter
Shape: Spherical or elliptical shape
Dense Masses
Qty: 10-15
Material: Zerdine-based, hyperechoic under ultrasound
Size: 5-10 mm in diameter
Half spherical with embedded microcalcifications (100-300 microns)
Half spiculated
Model 073 includes Multi-Modality Breast Biopsy and Sonographic Trainer Phantom, user guide and 6-month warranty.