Digital Phantom "Duke" 07-646 Quality Control Phantom

for Digital and Conventional Chest Radiography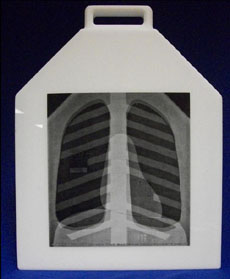 Digital Phantom 07-646 has two applications. First, it is used for quality control of conventional and digital x-ray. The second application is to teach Doctors and Technologists how to get a quality image on CR and DR while reducing dose creep.
Click Here for Instruction Manual for use on Digital Phantom Duke
Click Here for Education Manual for use on Digital Phantom Duke
A True Original … The Only Phantom on the Market that can Accurately Assess and Ensure Digital Chest Image Quality Designed for performing complete, full-system quality control on digital and conventional radiography systems in routine operating mode.
Radiograph resembles chest (spatially and in histogram)
Allows visual, quantitative assessment of image quality
Promotes early detection of system changes and problems
Yields reproducible images
Parallax-free
Easy to use
Conveniently portable
Saves time spent performing quality control: A digital chest radiograph differs from a standard chest radiograph, in that the sophisticated acquisition and processing details of digital radiography can alter the appearance of the image in subtle and substantial ways.
Image processing varies with the type of examination (chest, head, etc.)
Image content (histogram) affects image processing
A variety of critical system problems can be masked by image processing: Therefore, digital radiography systems require a special quality control phantom.
The Digital and Conventional Chest Radiography Phantom was developed in response to the need for objective testing of digital image quality in clinical radiographs. It will provide quantitative measurements for an evaluation of image quality and performance of the complete integrated digital system.
The Digital and Conventional Chest Radiography Phantom is unique in that it yields an image that is similar enough to an actual chest radiograph to cause the imaging system to respond normally (i.e., as if the system were processing a true chest image). It also contains image components that can be visually evaluated to provide a quantitative assessment of clinical image quality.
Results of validation tests of the phantom show it to be useful in:
QC testing of photostimulable storage phosphor CR systems
Digital thoracic radiography systems based on a selenium detector
Conventional screen-film systems
Routine testing of phototimer performance in all chest imaging systems
The QC Phantom for Digital and Conventional Chest Radiography Ensures Consistency in:
Image pre-processing
Film optical densities
Detector speed (S value) and latidual (L value)
Contrast Detail
Spatial Resolution
Phantom Construction
The phantom is constructed from sheets of copper and aluminum shapes resembling frontal radiographic projections of human thoracic structures (lungs, heart, ribs, abdomen, etc).
The components are oriented and arranged to simulate a projection of a complete thorax, and are then sandwiched between additional sheets of aluminum and acrylic. The top two corners of the phantom form "shoulders," which provide a region for direct x-ray exposure of the image receptor. This phantom is of rugged construction and features a handle for easy transport.
Specifications:
Regional Test Objects
are incorporated into the chest phantom for quantitative image quality assessment in the lung-, heart-, and subdiaphragm- equivalent image areas. Each test object contains a defined site for measurement of optical density and a matrix of low-contrast objects for contrast detail assessment. The phantom is designed such that no irregular structures (e.g. rigs or wire mesh) obscure the regional test sites.
Contrast Detail Test Pattern:
The contrast detail test pattern in each regional test object is comprised of a 5 by 5 matrix of copper disks of decreasing size and thickness. The copper disks in each column of the matrix, are of uniform thickness and decreasing size, ranging from 6mm to 0.5 mm in diameter. In each same-size row of the matrix, the copper disks vary in thickness, with the range of thicknesses selected appropriately for each of the three chest regions, to yield radiographic contrast spanning the perceptible range in each region.
Line Pair Test Pattern:
(0.1 mm-thick lead-foil) This component is included in the lung-equivalent region for assessment of spatial resolution. The line pairs are oriented diagonally in the phantom to avoid coincidence with the raster lines in the acquired and displayed images. Line Spacing (inLP/mm): 2.3, 2.4, 2.5, 2.6, 2.7, 2.8, 3.0, 4.0, 5.0.
Stainless Steel Wire Mesh:
(0.4 mm thick; 8 wires/cm overlays the entire chest area except at the regional test object sites.
Dimensions:
17" L X 14" W X 2.5" Thick (43cm X 36cm X 6 cm)
Weight:
30 lbs (13.6 kg)
Item Number:
07-646