Rugged Whole Body Phantom Kyoto Kagaku PBU-90
Rugged Full Body Phantom - Excellent Durability
Use for X-Ray training, disarticulates into 10 phantoms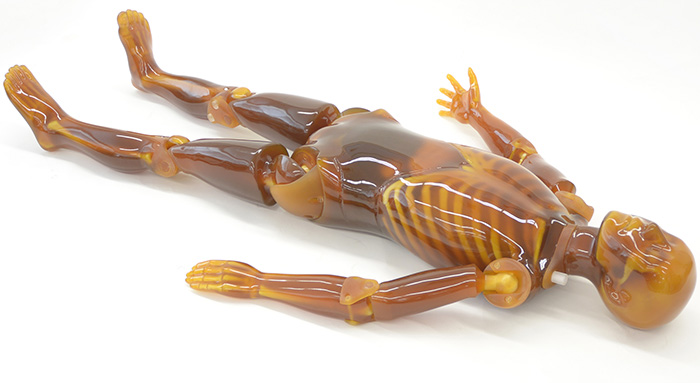 Many of our customers are familiar with PBU-50. PBU-90 is very similar to the PBU-50 product. The PBU-90 phantom is designed for use in X-Ray. While it will not hurt a CT Machine, the Hu Values will not be accurate. If you need a phantom that images well in both X-Ray and CT, PBU-60 is the better choice.
The Whole body phantom PBU-90 is a rugged life-size, full body anthropomorphic phantom with a state-of-the-art synthetic skeleton, lungs, liver, mediastinum and kidneys embedded in Kyoto Kagaku original soft tissue substitute. Movable joints allow basic positioning for plain X-ray and training/research applications can be enriched by disassembling the phantom into 10 individual parts (head, limbs and trunk). There are no metal parts or liquid structures. Available in dark amber color as shown.
The durable material allows PBU-90 to withstand student handling better than PBU-50. As you can see in the photograph, there are no protective mittens on the hands of PBU-90. We are not representing this phantom as unbreakable. What we can say is that in product testing, the manufacturer confidently states the material to be more durable than the material used for other full body phantoms they manufacture. For example: Because of the improved durability, if someone accidentally drops the forearm/hand piece, it is less likely to sustain damage that the same part from PBU-50. We do not suggest deliberately dropping the phantom or "testing" the integrity for curiosity sake. Any product will break if it is abused - so - please don't take it upon yourself to be "the tester." PBU-90 is designed to help you have longer product life; but, is not indestructible. We suggest handling with tender care, just as you would a fragile elderly patient or someone who was badly injured in an accident. PBU-90 has a higher price than PBU-50.
More photos will be coming soon!
Features

Patient positioning:
Right shoulder rotates side ways, abducting to a horizontal position. Left shoulder rotates forward, up to a horizontal position. Elbows bend inward to approx. 90 degrees. Hip joints rotate forward up to 90 degrees, then rotate outward up to 45 degrees, respectively.
Knees bend to approx. 90 degrees.
The phantom can be held in the supine frog leg position
The limbs and head are detachable at joints and neck for wider applications.
The head supporter facilitates various head positions.
Anatomy:
Life size synthetic skeleton
Hands and feet with bone trabeculae
Lungs with pulmonary vessels
Mediastinal space
Liver
Kidneys
Original phantom materials:
Radiology absorption approximate to human body.
Materials and features:
Soft tissue and organs: Urethane base resin (SZ-50)
Synthetic bones: Epoxy base resin
Joint attachments: Epoxy, urethane with carbon fiber
Screws: Polycarbonate
Prolong the life of your PBU
Soft tissue (SZ-50) material

Material
Density g/cm3
Effective Atomic Number
Electron Density x10~23e/g
Elemental Composition (wt%)
H
C
N
O
Water
1.000
7.417
3.343
11.19
88.81
SZ-50
1.061
6.14
3.258
8.41
72.25
4.61
14.73
Radiographic Techniques for PBU-50
Region
Voltage
Current
Time
Distance
Front of Chest
High Voltage
120kv
100mA
0.022s
200cm
P(-)
Front of Chest
Low Voltage
70kv
100mA
0.140s
200cm
Lith(+)
Side of Chest
High Voltage
120kv
200mA
0.040s
200cm
P(-)
Front of Abdomen
75kv
320mA
0.125s
150cm
Front of Head
75kv
320mA
0.071s
120cm
Side of Head
75kv
320mA
0.071s
120cm
Front of Brachium
55kv
160mA
0.063s
120cm
Front of Antebrachium
50kv
100mA
0.036s
120cm
Front of Femur
60kv
200mA
0.071s
120cm
Front of Curs
55kv
160mA
0.071s
120cm
Kneecap
55kv
160mA
0.040s
120cm
Hand
48kv
100mA
0.045s
120cm

Specifications
Set includes:
1 whole body phantom PBU-90 (separable into 10 parts) Synthetic bones,
pulmonary vessels, mediastinal space, liver, kidneys are embedded
1 head supporter
1 set of replacement joint connectors and screws
(1 piece for each)
1 flat head screwdriver
1 set of sample X-ray films
Phantom size:
approx. 165 cm height, 65 inches
Phantom weight:
approx. 50 kg, 110 lbs
Width of chest at thickest spot:
24 cm, 9.5 in
Width of chest at thickest spot + arms:
49 cm, 19 in
Thickness of chest front to back:
19 cm, 7.5 in
Packing size:
approx. 85 x 60 x 44 cm
Packing weight:
approx. 80 kg, 177 lbs
Storage Temperature Range:
20-25°C (68-77°F)
Avoid Storing in Direct Sunlight or High Humidity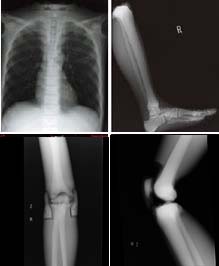 Click For More X-Ray Images