Tissue Equivalent CT Dose Phantoms CIRS 007-TE

Accurate CT dose measurements for Infants to large Adults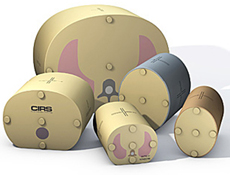 Features
Usable on all CT scanners
Simulates infant to large adult patients
Simulates head, thorax and abdominal regions
Made from tissue equivalent epoxy
1.30 cm inside hole diameter sized for standard CT Dose probes
The CIRS Tissue Equivalent CT Dose Phantoms are designed to more accurately simulate the patient's anatomy in the range of sizes from small infants to large adult patients rendering more accurate and reliable CT dose data.
There are eight abdominal, eight thorax, and four head phantoms of different sizes/ages available.
The bodies of the phantoms are made from proprietary epoxy formulations that faithfully mimic the X-ray absorption and scatter properties of soft tissue or water within 1% in the diagnostic energy range.
Each CT dose phantom includes an embedded vertebral bone equivalent rod that is specifically formulated to mimic the appropriate density for patient size/age.
The thorax CT dose phantoms include vertebral bone equivalent rod and lungs. The head CT dose phantoms wrapped around with bone equivalent layer to represent cranium bone for different patient size / age.
All the phantoms have five through-holes with an inside diameter of 1.30 cm to accommodate standard CT dose probes and five tissue equivalent rods to plug the holes not in use. One hole is at center and four are around the perimeter, 90° apart and 1 cm from center to the outside edge of the phantom.