Catphan® 700

Comprehensive CT Performance Measurements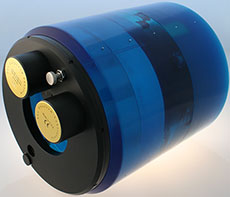 Catphan® 700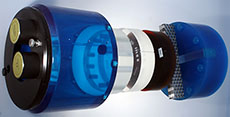 The Catphan® 700 Phantom has been designed to address the image performance measurement requirements for state of the art CT volume scanners.
The phantom retains many of the tests and features offered in the other Catphan® models including the CTP515 low contrast test module and integrated case mounting system. Other test objects have been refined in this development including the addition of higher resolution test patterns in the new CTP714 1 to 30 line pair per centimeter test module, the addition of smaller acrylic spheres to our low contrast sphere array contained in the CTP682 sensitometry slice geometry module, and additional bone and lung samples to assist customers using their CT images for radiation therapy treatment planning.
Along with numerous modifications, the phantom also contains the new CTP721 wave insert for measuring slice geometry and resolution across the scan area. Also, in order to address possible variables due to test pattern orientation with the scanners x and y axis, the phantom has a new rotation mount. This enables the mounted phantom to be rotated 360° with alignment detents at 45° intervals to study possible angular position-dependent results.
Catphan® 700 design and construction
Test precision, durability, and efficient operation are the key design. The Catphan® 700 continues to utilize the modular concept developed with the original Catphan® phantom. The three solid cast test modules are mounted inside the phantom's housing. The wave insert and complementary MTF bead blocks press into pockets on the uniformity body that attaches to the module housing. The new rotating mount is connected to the module housing. Using the new mount, the phantom can be quickly cantilevered off the end of the table and rotated into various angular positions to allow for artifact free scanning.
While most customers will never choose to disassemble their phantom, special care was taken in the development of the Catphan® to enable disassembly for potential upgrades or modifications. To prevent hardware artifacts, no metal hardware is used to connect the wave uniformity section to the module housing or between the housing and the mount.
Catphan® 500, 600, are designed for comprehensive evaluation of axial, spiral, multislice, conebeam, and volume CT scanners.
Catphan® Phantoms are internationally recognized for measuring the MAXIMUM obtainable performance of axial, spiral and multislice CT scanners. The Catphan® modular design allows test modules to be interchanged.
The Catphan® Phantoms are constructed from modules that fit snugly into a durable 20cm housing. All Catphan® modules are made from solid-cast materials, solid-cast construction eliminates material absorption of water, freezing and leaks associated with water bath phantoms, as well as, problems related to varied water sources.
Catphan® Modules
Catphan® 600
Catphan® Phantom with
Optional Annuli
Tests apply to all Catphan® models:
scan slice geometry (slice width and slice sensitivity profile)
high resolution (up to 20 or 21 line pairs per cm)
phantom position verification
patient alignment system check
low contrast sensitivity
comparative subslice and supra-slice low contrast sensitivity
spatial uniformity
scan incrementation
noise (precision) of CT systems
circular symmetry
sensitometry (linearity)
pixel (matrix) size
point spread function and modulation transfer (MTF) for the x, y, and z axes
Note: These products work well with AutoQA Plus CT Catphan® Software and also Catphan® QA Automated Computer Analysis Program from Image Owl, Inc.
The Phantom Laboratory and physicist, David Goodenough, Ph.D., have worked together to develop the Catphan® Phantoms.
The new Catphan® designs are based on three decades of scientific research and direct field experience in the evaluation of medical imaging equipment. These phantoms are used to complete comprehensive performance evaluations of axial, spiral and multislice CT scanners and to implement quality assurance programs.
As your testing needs change and new modules are developed you can upgrade test modules that are compatible with your Catphan® system. Additionally, the Catphan® system is ideal for traveling physicists and engineers who conduct comprehensive evaluations of CT scanners at multiple locations as they are easily transportable and no draining is required between uses.
Catphan® 700 Modules
CTP712
Uniformity
Section
CTP721 Wave Insert
and
CTP723 Bead Blocks
CTP515
Low Contrast
Module
CTP714 30
Line Pair High
Resolution Module
CTP682
Geometry
Sensitometry Module
Catphan® QA Automated Computer Analysis Program from Image Owl, Inc.
To assist Catphan® customers, The Phantom Laboratory has worked with Image Owl, Inc. to develop a web-based automated service for analysis of Catphan® phantom images with the versatility of Internet access. Catphan® 500, 503, 504, 600, and 700 models are supported.
The Phantom Laboratory sponsors a free version of the service available for Catphan® customers. Customers scan their phantom and upload a DICOM image to the web-based server where the test module is identified and results reported by the automated system. The report is available to download or print for the customer's records.
Image Owl offers additional advanced tools and services with a yearly subscription, including multiple image (slice) uploads, longitudinal performance history, and user specified alerts.
Please visit the Image Owl site for more information on the services available. www.imageowl.com
Contact
Supertech®
for complete product brochures.
Catphan® 500 Models
Complete Catphan® including housing and case, equipped with the following test modules:
Item #
Description
CTP401
Slice width, sensitometry and pixel size
CTP528
21 line pair high resolution and point source
CTP515
Subslice and supra-slice low contrast
CTP486
Solid image uniformity module
Catphan® 503 Models
Complete Catphan® including housing and case, equipped with the following test modules:
Item #
Description
CTP404
Slice width, sensitometry and pixel size
CTP528
21 line pair high resolution and point source
CTP486
Solid image uniformity module
Catphan® 504 Models
Complete Catphan® including housing and case, equipped with the following test modules:
Item #
Description
CTP404
Slice width, sensitometry and pixel size
CTP528
21 line pair high resolution and point source
CTP515
Subslice and supra-slice low contrast
CTP486
Solid image uniformity module
Catphan® 600 Models
Complete Catphan® including housing and case, equipped with the following test modules:
Item #
Description
CTP404
Slice width, sensitometry and pixel size
CTP591
Bead geometry module
CTP528
21 line pair high resolution and point source
CTP515
Subslice and supra-slice low contrast
CTP486
Solid image uniformity module
Catphan® 700 Models
Complete Catphan® including housing and case, equipped with the following test modules:
Item #
Description
CTP682
Geometry sensitometry and point source module
CTP714
30 line pair high resolution module
CTP515
Subslice and supra-slice low contrast
CTP721
Wave insert
CTP723
Bead blocks
CTP712
Uniformity section
Individual Catphan® Parts

Item #
Description
CTP623
Catphan® 600 housing
CTP627
Catphan® 600 mount assembly
CTP451
Catphan® case
Individual Catphan® Sections
Item #
Description
CTP404
Slice width, sensitometry and pixel size module
CTP528
21 line pair high resolution and point source module
CTP486
Solid image uniformity module
CTP515
Subslice and supra-slice low contrast module
CTP591
40mm bead geometry module
CTP682
Geometry sensitometry and point source module
CTP714
30 line pair high resolution module
Optional Catphan® Components
Annuli:
Item #
Description
CTP299
Teflon annulus
CTP539
30cm OD 5cm thick uniformity material body annulus
CTP653
32cm OD 5cm thick uniformity material body annulus
CTP653-10
32cm OD 10cm thick uniformity material body annulus
CTP653-15
32cm OD 15cm thick uniformity material body annulus
CTP653-20
32cm OD 20cm thick uniformity material body annulus
CTP540
35cm OD 5cm thick uniformity material body annulus
CTP650
38cm OD 5cm thick uniformity material body annulus
CTP650-10
38cm OD 10cm thick uniformity material body annulus
CTP650-15
38cm OD 15cm thick uniformity material body annulus
CTP650-20
38cm OD 20cm thick uniformity material body annulus
CTP579
25-35cm oval OD 5cm thick uniformity material body annulus
CTP579-10
25-35cm oval OD 10cm thick uniformity material body annulus
CTP579-15
25-35cm oval OD 15cm thick uniformity material body annulus
CTP579-20
25-35cm oval OD 20cm thick uniformity material body annulus
CTP651
30-38cm oval OD 5cm thick uniformity material body annulus
CTP651-10
30-38cm oval OD 10cm thick uniformity material body annulus
CTP651-15
30-38cm oval OD 15cm thick uniformity material body annulus
CTP651-20
30-38cm oval OD 20cm thick uniformity material body annulus
CTP599
45-55cm oval OD 5cm thick uniformity material body annulus
Module housings, hold one or more modules:
CTP541
16cm OD housing and mount
Dose Phantoms:
CTP553
32cm Acrylic Dose Phantom
CTP554
16cm Acrylic Dose Phantom
CTP558
Dose Phantom Set includes 16cm and 32cm