Image-Guided Abdominal Biopsy Phantom - CIRS 071B
CT / ULTRASOUND / MRI
IMAGE FUSION • LIVE SCANNING • BIOPSY TRAINING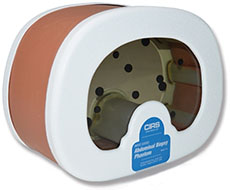 Visualize Biopsy Insertions With Minimal Needle Tracking
The Model 071B, Image-Guided Abdominal Biopsy Phantom is a simplified abdominal phantom suitable for training and demonstrating image-guided needle biopsy navigation tools or procedures that require a constant visual reference for needle placement. Because it is constructed of a self-healing formulation of Zerdine, the phantom allows multiple biopsy insertions with minimal needle tracking.
The phantom contains 12 lesions, 5-12 mm in diameter, positioned in groups of three in consistent locations within the phantom. It also includes simulated spine and ribs, and an "H" marker within the spine to assist in determining the head side within a CT image.
The lesions and spine are visible under ultrasound, CT and MRI. The solid polymer gel background is anechoic and will not leak when punctured.*
The phantom includes a foam lined hard carry case. For users interested in image fusion studies, the phantom can Image-Guided Abdominal Biopsy Phantom be purchased as a kit to include a serial-number specific CT DICOM Data set for reference. CIRS can also offer value-added options and services such as phantom specific CMM, attachment of customer specific registration devices and inclusion of special point markers.
US Patent #5196343
Features
Improve performance of freehand abdominal biopsies
Minimal needle tracking - Z-skin fat layer and softer gel provide better self-healing properties
Validate automated biopsy systems
Suitable for CT, MRI and ultrasound
*NOTE: Some permanent tracking may be evident if debris and air bubbles are entrained in the gel during the biopsy procedure. To extend the lifetime of the phantom, the use of higher gauge needles that have been wetted and de-aired prior to insertion is recommended.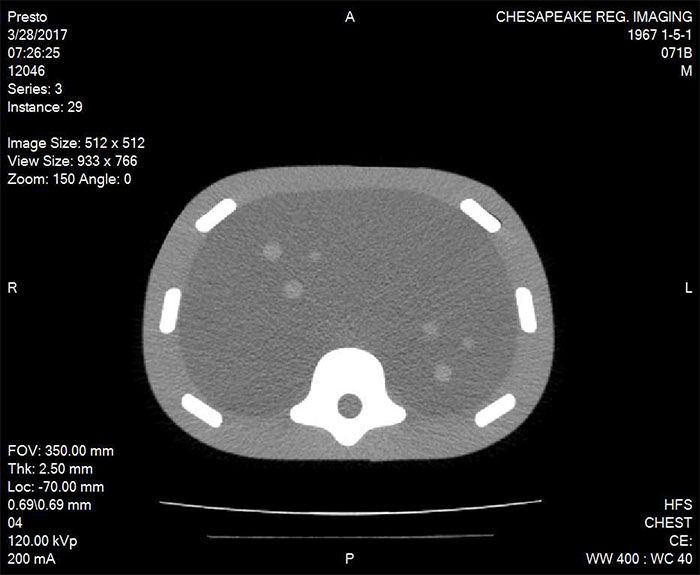 071B CT Image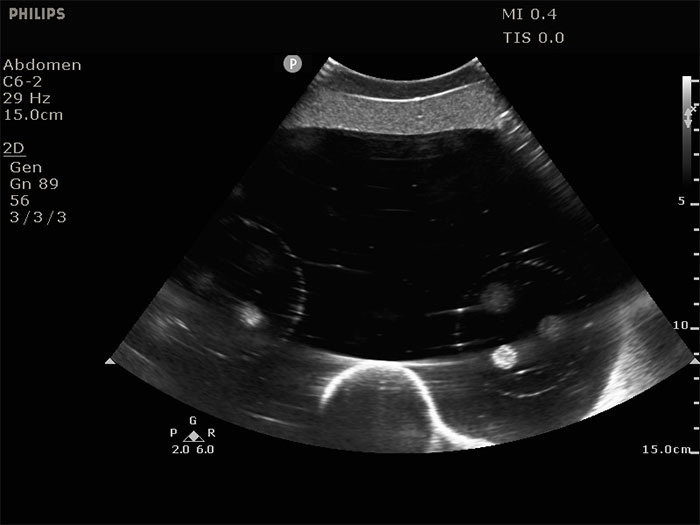 071B Ultrasound Image
Specifications

Dimensions
28cm x 20cm x 12.5cm
(11" x 7.9" x 4.9")
Phantom Weight
12.1lb (5.5 kg)
Materials
Background: Optically clear Zerdine®(1) gel, 1540 m/s (nominal)

Ribs & Vertebrae: Radio-opaque epoxy

Scan Surface: Z-skin™ elastomer

Masses: Zerdine, soft tissue

Muscle Layer: Hyperechoic Zerdine® gel (ensures phantom retains shape over time
Masses
Material: Zerdine®, soft tissue
Diameter: 5 -12 mm
Qty: 12
Positioned in four groups of three

Other
CT visible "H" marker to indicate head/foot orientation (made from lead - MRI compatible)
Model 071B includes Image-Guided Abdominal Biopsy Phantom, user guide and 12-month warranty.

Optional Features

Model 071B-035
CT DICOM Data Set (Serial number specific, 1.5 mm slice thickness @ 120 kvp)