Triple-Modality Breast Biopsy Training Phantom CIRS 051

(Ultrasound, MRI, X-ray)
This item has been discontinued and then upgraded, replacement product is CIRS 073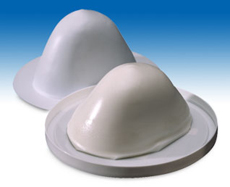 Suspect lesions discovered in x-ray mammography must often be evaluated under ultrasound to aid diagnosis and in some cases, use of MRI may be indicated. This phantom is an ideal training device because it can be imaged under three modalities and was designed specifically for needle biopsy.
The Triple-Modality Biopsy Training Phantom is a disposable phantom that was designed to closely mimic the properties of the human breast, making it an extremely useful accessory for training technologists and physicians, as well as for verifying the proper operation of a mammographic biopsy system.
Training: With the increasing use of breast biopsy procedures, it is essential that radiology healthcare providers maintain and increase their needle biopsy skills. This training phantom is a must for every mammography facility.
Quality control: The breast biopsy procedure depends on several variables for accurate needle placement. Thus, for patient safety, the system must be properly maintained and evaluated. A comprehensive mammography quality control program must provide assurances that all aspects of the mammography equipment are operating at optimum levels. The Triple-Modality Biopsy Training Phantom is the ideal tool for such a program. Additionally, the phantom can and should be used whenever a new system is installed or repaired, to ensure accurate needle placement.
Each cystic mass may be aspirated once while each solid mass may be biopsied multiple times.
Note: The phantom is fragile and any problems must be reported within 30 days of receiving. Mis-handling is not considered to be a manufacturing defect and the units will not be replaced if that is the evaluation of our supplier.
Features

Compressible
Physical density and attenuation characteristics accurately simulate that of an average 50% glandular breast (BR-12 equivalent) under x-ray, ultrasound, and MRI
Phantom's flesh-like consistency simulates needle resistance found in human tissue
Anthropomorphic shape is suitable for compression mammography or ultrasound examinations

Specifications

SIZE: 500 cc
LENGTH: 12 cm
WIDTH: 10 cm
HEIGHT: 9 cm
MATERIAL: Zerdine®


Dense masses
2 to 8 mm in diameter for core biopsy.

Cystic Masses
3 to 10 mm in diameter for needle aspiration.