Doppler 403™ & Mini-Doppler 404™ Flow Phantoms

Ensure years of consistent QC measurements and high quality diagnostic imaging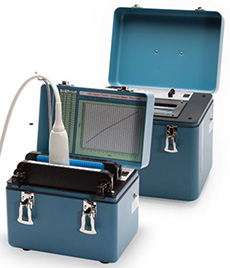 Collaboratively designed to better serve your needs
Go from storage to use in less than 10 seconds
Gammex collaborated with clinical and academic thought leaders to develop our patented HE (High Equivalency) Gel™ and the first portable Doppler Flow Phantoms in the world.
The Doppler 403 and Mini-Doppler 404 Flow Phantoms are second generation devices based on the proven, original designs, and developed with ongoing customer input.
Precision pulsatile flow mode allows you to reliably test system velocities
HE (High Equivalency) Gel™ is patented and proven

Helps ensure all transducers and system settings are fully tested across the entire frequency range from 2 to 18 MHz
Response of attenuation-to-frequencies over 8 MHz supports accurate axial resolution and penetration depth representative of human tissue1,2
Browne, J., Ramnarine, K., Watson, A., Hoskins, P., Assessment of the Acoustic Properties of Common Tissue-mimicking Test Phantoms. Ultrasound in Medicine and Biology, Vol. 29 (7), pp. 1053-1060, 2003.
Goldstein, A., The Effect of Acoustic Velocity on Phantom Measurements. Ultrasound in Medicine and Biology, Vol. 26, pp. 1133-1143, 2003.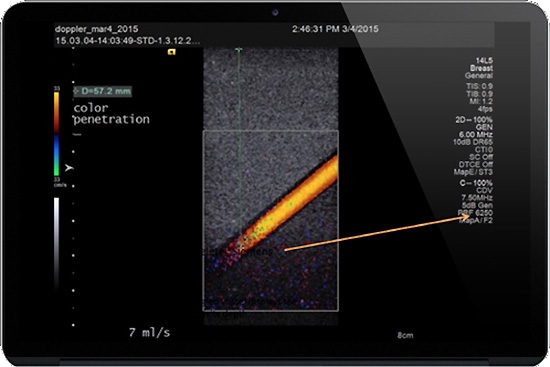 Scanning the angled vessel displays the color flow sensitivity depth.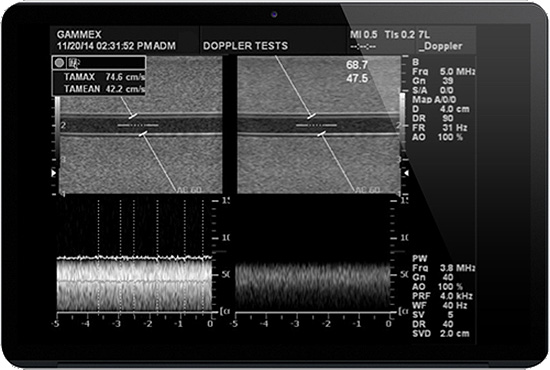 Volume flow settings on the phantom support reliable system velocity testing.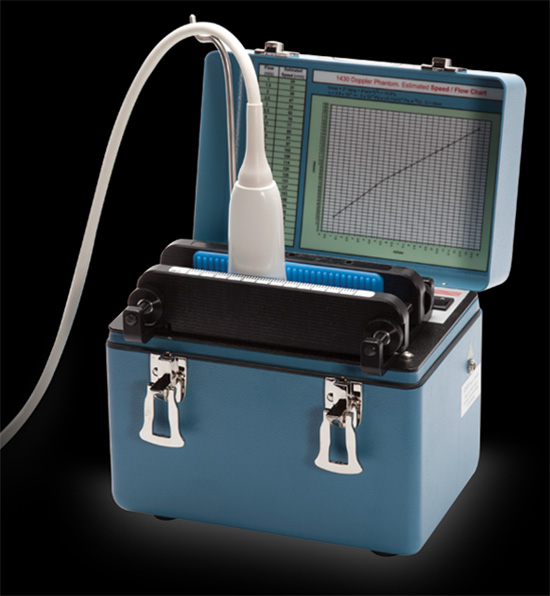 Sono Transducer Holder securely holds a transducer in a precise location to help you perform reproducible QC tests.
From routine QA to education and complex research
Doppler 403 Flow Phantom
The gold standard in Doppler Ultrasound QA
Measure axial & lateral resolution from the surface to 16 cm deep
Mini-Doppler 404 Flow
Ideal for cardiology and musculoskeletal (MSK) applications
Measure small parts resolution
Lightweight at less than 10 lbs. (4.6 kg)
Sono Transducer Holder
The Sono Transducer Holder Accessory fits any Gammex phantom including the Sono Family and Doppler Flow phantoms.
Place a transducer in a precise location in the holder for reproducible tests over time
Support the transducer cable with the cable hook
Common Highlights
New blood mimicking fluid formulation

Represents laminar and parabolic flows (velocity-dependent)3
Increased viscosity and decreased Reynolds number
No need to ever purchase or store blood mimicking fluid

Rugged, self-contained, battery-operated
Easy to use—turn it on, push a button & start testing
HE Gel can be rejuvenated and your phantom re-validated any time to strengthen your investment
Exceed ACR, ECR, AIUM and other program requirements
When combined with the flow controller
Precision Pulsatile Flow Mode Supports Reliable System Velocity Testing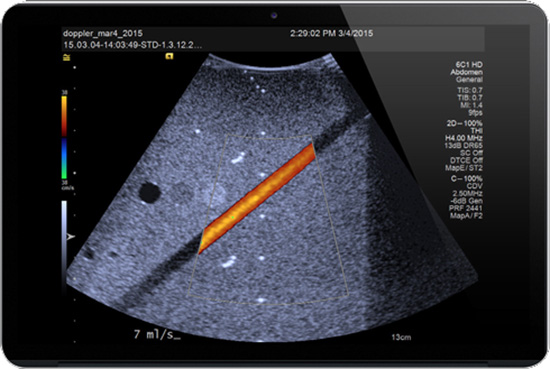 The Doppler 403 Flow Phantom is used to test the Doppler color flow velocity measurement.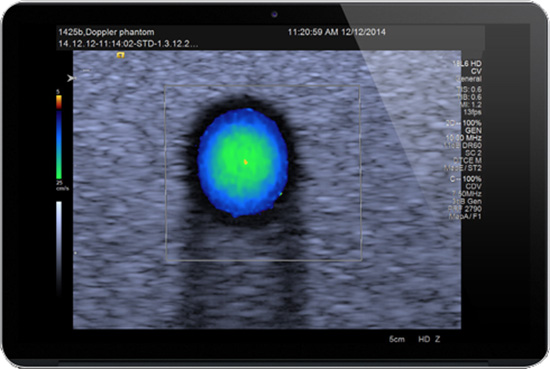 Cross section image showing the highest velocity at the center of the tubing.
This represents a measurement of laminar, parabolic flow.
Rejuvenation Will Protect Your Investment

Our Doppler Flow and Sono (B-Mode) phantoms are the only ultrasound phantoms on the market that can be rejuvenated and re-validated. Implementing a rejuvenation program can extend the life of the phantom to 10+ years.

Specifications
Doppler 403 Flow Phantom
HE Gel™: Gammex's multi-frequency tissue mimicking material:
X
Patented Composite Film Scanning Surface:
X
Vessels (2)
5mm inner diameter; 1 horizontal at 2 cm depth, 1 diagonal at 40° from 2 to 16 cm deep
Flow Rates
Customizable, constant and pulsatile
Blood Mimicking Fluid
Speed of Sound 1550 +/- 10 m/s
Targets
Strings, cysts, grey scale, resolution groups
Dimensions (Case)
28 H x 30.5 W x 22 cm (11 x 12 x 8.65 in.)
Weight
8.34 kg (18 lbs. 4 oz.)
Doppler 404 Flow Phantom
HE Gel™: Gammex's multi-frequency tissue mimicking material:
X
Patented Composite Film Scanning Surface:
X
Vessels (2)
4mm inner diameter; 1 horizontal at 2 cm depth, 1 diagonal at 35° from 2 cm deep
Flow Rates
Customizable, constant and pulsatile
Blood Mimicking Fluid
Speed of Sound 1550 +/- 10 m/s
Targets
Strings, cysts, grey scale, resolution groups
Dimensions (Case)
20 H x 23 W x 15.2 cm (7.87 x 9.06 x 5.94 in)
Weight
4.6 kg (9 lbs. 15 oz.)