Near Field Ultrasound Phantom CIRS 050

QA standard for high frequency probes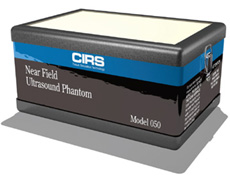 The CIRS series of ultrasound phantoms, unlike human subjects or random scannable materials, offers a reliable medium which contains specific, known test objects for repeatable qualitative assessment of ultra sound scanner performance over time.
At normal or room temperatures the Zerdine®(1) material found in the Near Field phantom will accurately simulate the ultrasound characteristics found in human tissue.
The Model 050 has a series of wire targets that will appear as bright dots or lines on the ultrasound image. These targets are made from nylon wire with a diameter of 0.10 mm and a positional accuracy of ± 0.2 mm. There are also two known volumes, a 10 mm anechoic/+15 dB mass and anechoic focal lesions embedded within the phantom. These "masses" are made from Zerdine® that has a different contrast and attenuation relative to the background material.
The Model 050 was designed to allow for assessment of uniformity, dead zone, depth of penetration, beam profile/focal zone/lateral response width, vertical distance measurement accuracy, axial resolution, lateral resolution, anechoic masses, high contrast masses, volumetric measurement accuracy, and focal lesion detectability.
Phantom comes with detachable scanning wells to accommodate large sector probes and small endocavity probes. It is packaged in a hermetically sealed, air tight, rugged carrying case.
¹ US Patent #5196343
Specifications



Container
Dimensions: 200 x 150 x 100 mm
Weight: 18 lbs (6.7 kg)
Material: ABS Housing

Background gel
Zerdine, solid elastic water-based polymer
Freezing Point: 0° C
Melting Point: Above 100° C
Attenuation Coefficient: 0.5 dB/cm-MHz
Speed of Sound: 1540 m/s

Scanning Well
165 x 100 x 10 mm deep

Scanning Membrane
Saran-based laminate

Wire Targets
Material: Nylon Wire
Diameter: 0.10 mm
Near Field Group
Number of Targets: 10
Depth Range: 1 to 10 mm
Vertical Spacing: 1.0 mm

VERTICAL Group
Depth Range: 10 to 80 mm
Spacing: 10 mm
Material: 0.1 mm Nylon Wire

Axial Resolution Group
Number of targets: 12
Depth: 20 mm
Spacing: 0.5, 1, 2, 3, 4 & 5 mm
Lateral Resolution Group
Number of targets: 6
Depth: 15 mm
Spacing: 1, 2, 3, 4 & 5 mm

High Contrast/ Cystic Rod
Material: Zerdine
Diameter: 10 mm
Depth: 10 mm
Attenuation Coefficient- Cystic Half:
less than 0.07 dB/cm-MHz
Contrast- Cystic Half: anechoic
Attenuation Coefficient- High Contrast:
1.23 dB/cm-MHz
Contrast- High Contrast: hyperechoic

Focal Lesions
Diameter of Targets: 3 & 5 mm
Random Distribution

Volumetric Test Objects
Material: Zerdine
Number of Targets: 2
Speed of Sound: 1540 m/s
Attenuation Coefficient: 0.5 dB/cm-MHz
Contrast: +9 dB
Depths: 20 mm, 47 mm
Volumes: 7 cc, 21 cc
Model 050 Includes

Near Field Ultrasound Phantom
Certificate of Compliance
Carry Case
Removable Scanning Wells
User Guide
QA Worksheet
48-month Warranty