Multi-Purpose Multi-Tissue Ultrasound Phantom CIRS 040GSE
The New Standard For Ultrasound Quality Assurance
Exceeds ACR Accreditation Requirements
The CIRS Model 040GSE Multi-Purpose Multi-Tissue Ultrasound Phantom not only contains all the features of the original CIRS Model 040, but also includes gray scale targets, anechoic stepped masses and elasticity targets. The phantom is designed to meet the ultrasound QA challenges of today and tomorrow.
The unique dual attenuation of the background gel allows for evaluation of transducers that range from 2 MHz - 15 MHz. A removable water well and endocavity cover extends the use of the phantom by allowing evaluation of all transducer configurations: linear, curvilinear and intercavity.
CIRS ultrasound QA phantoms come standard with a robust housing, rugged carry case, 48-month warranty, and user guide.
US PATENT# 5196343
Performance Measurements
Dead Zone
Horizontal Distance
Vertical Distance
Depth of Penetration
Image Uniformity
Axial Resolution
Lateral Resolution
Anechoic Mass Resolution
Gray Scale Contrast Resolution
Elasticity Image Evaluation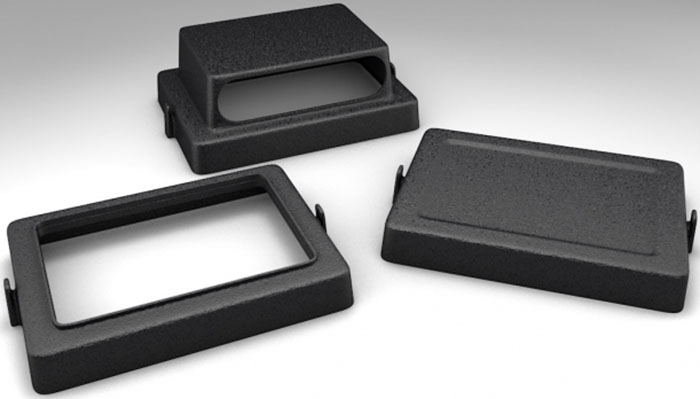 Phantom comes with detachable scanning wells to accommodate large sector
probes and small endocavity probes. It is packaged in a foam lined carry case.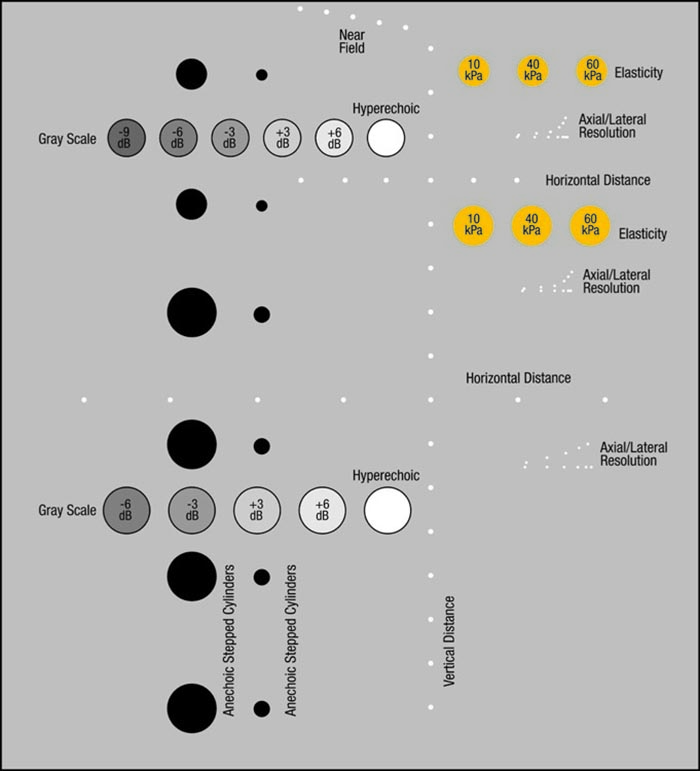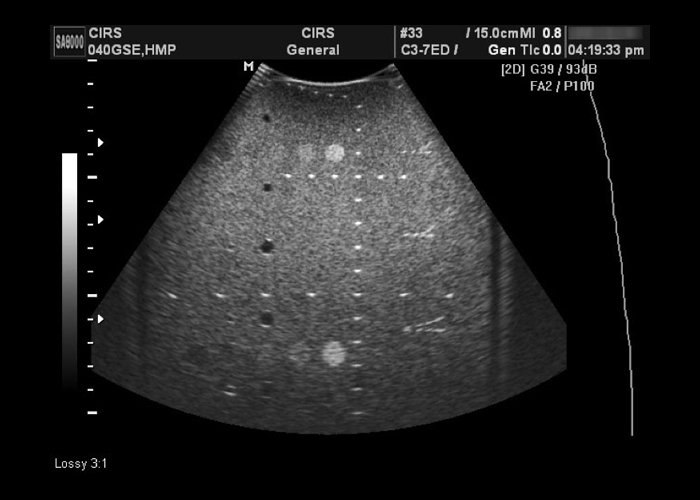 Specifications

Background Material
Material: Zerdine®1
Freezing Point: 0® C
Melting Point: Above 100® C
Attenuation: 0.5 dB/cm-MHz ± 0.05 dB/cm-MHz & 0.7 dB/cm-MHz ± 0.05 dB/cm-MHz
Speed of Sound: 1540 m/s ± 10 m/s
Scanning Well
1cm deep
Scanning Membrane
Saran-based laminate
Wire Targets
Material: Nylon monofilament
Near Field Group
Number of Targets: 5
Wire Diameter: 100 microns
Depth range: 1 to 5 mm
Distance between Targets: 1 mm
Vertical Distance Group
Number of Targets: 16
Wire Diameter: 100 microns
Depth Range: 1 to 16 cm
Spacing: 10 mm
Horizontal Distance Groups
Number of Groups: 2
Wire Diameter: 100 microns
Depths: 4 and 9 cm
Number of Targets: 4 & 7 respectively
Spacing: 10 & 20 mm respectively
Axial-Lateral Resolution Groups
Number of Groups: 2
Wire Diameter: 80 microns
Depths: 3 & 6.5 cm
Axial Separation: 4, 3, 2, 1, 0.5 & 0.25 mm
Lateral Separation: 4, 3, 2, 1, 0.5 & 0.25 mm
Number of Groups: 1
Wire Diameter: 80 microns
Depths: 10.5 cm
Axial Separation: 5, 4, 3, 2, & 1 mm
Lateral Separation: 5, 4, 3, 2, & 1 mm
Anechoic Stepped Cylinders
Number of Targets: 12
Diameter of Targets: 1.3, 2.0, 3.0, 4.5, 6.7 & 10.0 mm
Depth of Targets: 1.5, 4.5, 7.0, 10.0, 13.0, 16.0 cm
Attenuation: 0.5 dB/cm-MHz
Contrast: Anechoic, Cyst-like
Gray Scale Targets
Attenuation: 0.5 dB/cm-MHz
Number of Groups: 2
6 Targets: 8mm Ø at 3 cm depth
Contrast: -9, -6, -3, +3, +6 & > +15 dB
5 Targets: 10mm Ø at 11.5 cm depth
Contrast: -6, -3, +3, +6 & > +15 dB
Elasticity Targets
Attenuation: 0.5 dB/cm-MHz
Number of Groups: 2
Number of Targets Per Group: 3
- 6 mm Ø at 1.5 cm Depth
- 8 mm Ø at 5 cm Depth
Elasticity: 10, 40 & 60 kPa
Model 040GSE Includes

Multi-Purpose Multi-Tissue Ultrasound Phantom
Detachable Scanning Wells
(accommodates large sector probes and small endocavity probes)
Foam-lined Carry Case
User Guide
48-Month Warranty
UltraiQ - Automated Phantom Analysis For Diagnostic Ultrasound