ErgoLite® Zero Fatigue Aprons
ErgoLite® Vests & Kilts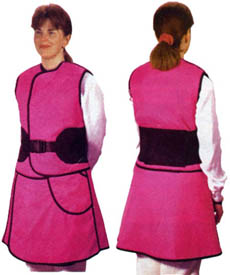 Our ErgoLite® Vest and Kilt places support directly at your lower back area. Combined with AADCO's exclusive ErgoLite® Internal Support Frame, it transfers 100% of the apron's weight to your hips, eliminating all shoulder contact and repetitive stress on sensitive contact points of the shoulder, clavicle, cervical/thoracic spine, and upper back muscles. Exclusively from AADCO Medical. Adjusted properly, the apron doesn't even touch your shoulders.
The first and only X-ray Protective Aprons ever to eliminate 100% of weight and contact at the shoulder areas are the ErgoLite® Zero Fatigue Aprons. By using a reinforced but flexible internal framework, these aprons have been designed to entirely eliminate the Repetitive Stress and Fatigue Problems of the upper back and extremities associated with the shoulder contact and weight of conventional X-ray aprons.
ErgoLite® Vests & Kilts
Male Size
[Size Chart]
Color
X-BAN® 0.5MM
X-BAN® 0.35MM
No Lead
Substitute 0.5MM
No Lead
Substitute 0.35MM
Small Vest
Standard Color
is Blue

For Custom Colors Click Here
LP-EX680
LP-EA680
LP-EL680
LP-EF680
Small Kilt
LP-EX684
LP-EA684
LP-EL684
LP-EF684
Medium Vest
LP-EX681
LP-EA681
LP-EL681
LP-EF681
Medium Kilt
LP-EX685
LP-EA685
LP-EL685
LP-EF685
Large Vest
LP-EX682
LP-EA682
LP-EL682
LP-EF682
Large Kilt
LP-EX686
LP-EA686
LP-EL686
LP-EF686
X-Large Vest
LP-EX683
LP-EA683
LP-EL683
LP-EF683
X-Large Kilt
LP-EX687
LP-EA687
LP-EL687
LP-EF687
XX-Large Vest
LP-EX688
LP-EA688
LP-EL688
LP-EF688
XX-Large Kilt
LP-EX689
LP-EA689
LP-EL689
LP-EF689
Female Size
[Size Chart]
Color
X-BAN® 0.5MM
X-BAN® 0.35MM
No Lead
Substitute 0.5MM
No Lead
Substitute 0.35MM
Petite Vest
Standard Color
is Blue

For Custom Colors Click Here
LP-EX600
LP-EA600
LP-EL600
LP-EF600
Petite Kilt
LP-EX604
LP-EA604
LP-EL604
LP-EF604
Small Vest
LP-EX601
LP-EA601
LP-EL601
LP-EF601
Small Kilt
LP-EX605
LP-EA605
LP-EL605
LP-EF605
Medium Vest
LP-EX602
LP-EA602
LP-EL602
LP-EF602
Medium Kilt
LP-EX606
LP-AE606
LP-EL606
LP-EF606
Large Vest
LP-EX603
LP-EA603
LP-EL603
LP-EF603
Large Kilt
LP-EX607
LP-EA607
LP-EL607
LP-EF607
X-Large Vest
LP-EX608
LP-EA608
LP-EL608
LP-EF608
X-Large Kilt
LP-EX609
LP-EA609
LP-EL609
LP-EF609