ErgoLite® Thyroid Shield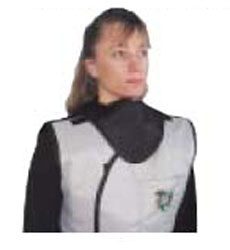 The Ergolite® thyroid shiled is designed exclusively for the Ergolite® aprons. If you need a thyroid shield that works with any apron, please see our other choices.
The ErgoLite® Thyroid shield is specially designed to perform comfortably with your Ergolite® Vest or Wraparound Apron. The shield is secured, not by wrapping around the neck like conventional thyroid shields, but by attachment to velcro tabs on the front of any Ergolite® vest or wraparound apron. This provides for better air flow around the shield, elimination of any possible chafing and improved user comfort. The protective material is X-Ban® 0.5MM lead equivalent.

Soft & Clean™ Disposable Thyroid Liners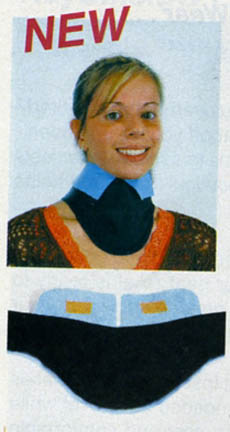 Your Thyroid Shield is the most difficult item to keep dry and clean. Because it comes in direct contact with your skin, perspiration can cause chaffing, rashes, and unsanitary conditions, especially if you share your shield with others.
We have kept in mind your need for clean comfort. We've incorporated a super soft fiber material into our liners. This inexpensive "soft feel" liner adheres easily to your existing thyroid shield with two self stick tabs and because it is value priced, a new cover can be used after each procedure. Easy to put on, simply lay the inside of your thyroid shield on top of the liner, so that the end of the slit between the 2 tabs is at the center of the neck edge of the shield, as shown. Then strip the backing off the self stick tape on each tab, fold over, stick down and put your thyroid shield on.
Disposable Thyroid Liners

Size
Cat #
Box of 30
DLP-800