Sound Pro Ultrasound Combination Table Biodex
058-710 (115v) / 058-715 (230v)
Dual-purpose table accommodates ultrasound and
echocardiography procedures with enhanced ergonomics.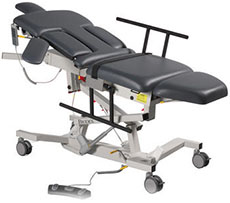 The Sound Pro Combination Table combines the imaging features of both the Ultra Pro and Echo Pro tables. Fully equipped for OB/GYN, general ultrasound and echocardiography, this extra wide table is ergonomically designed for both patient and sonographer.
The fold away side rails and adjustable sonographer cutout cushion allow comfortable shoulder, arm and hand positions when scanning. There are no barriers between sonographer and patient, allowing correct scanning posture to prevent musculoskeletal injury. The cardiac scanning cutout provides open access to the patient's left thorax area for an unobstructed apical approach. The motorized Fowler back is infinitely adjustable to 80° via hand or foot controller.
The Sound Pro Combination Table is so accommodating, it reduces the total amount of time required to achieve a quality image. Stress patients are off the treadmill and quickly onto the table in imaging position. Patient comfort is assured even through lengthy procedures by cushioned arm supports, a thick mattress and a multitude of comfort-driven design details. The unique swing-out cardiac scanning cutout cushion doubles as an armrest, while the leg section drops down to 40° for patients with circulatory issues.
| | | |
| --- | --- | --- |
| Redesigned cardiac drop-down cushion provides the largest cardiac access of any table. | Rails stow beneath the table when not in use, eliminating obstruction. | Patient comfort is assured, during lengthy procedures with cushioned arm supports, optional stirrups, and a softer feel antimicrobial mattress cover. |

Specifications
Dimensions: 71" l x 30" w (180.3 x 76.2 cm); 35" w (88.9 cm) with side rails
Drop-Down Leg Section: 12.6" l (32 cm)
Height Adjustable: 23" to 39" (58.4 to 99 cm)
Tabletop: Three primary sections: torso section features sonographer and patient cutouts with Fowler positioning; center section remains fixed and leg section drops down to 40° and 80° for stirrup access
- Drop-Down Cardiac Scanning Cushion: Release from either side of the table
- Adjustable Sonographer Cushion: drops down or folds up for maximum access to the patient
Mattress: Torso section 2" (5 cm) thick, center and leg sections 3" (8 cm) thick; foam rubber pad covered with seamless, durable Naugahyde®
Upholstery Color: Graphite
Motions:
- Height Adjustable: 23" to 39" (58.4 to 99 cm)
- Trendelenburg: 0° to ±15°
- Fowler Back: 0° to 80° infinitely adjustable
Controls:
- Hand Control: Activates height, Trendelenburg motion, Fowler positioning and auto level motions
- Foot Control: Activates height, Trendelenburg motions and Fowler positioning
Wheels: 5" (12.7 cm) Individual locking swivel casters; central floor locking system
Patient Restraints: One body strap
Finish: Powder coat
Patient Capacity: 500 lb (227 kg); weight tested to four times the patient load rating.
Weight: 350 lb (159 kg)
Power: 115 VAC or 230 VAC
Warranty: Two-year
Certifications: ETL and cETL Listed to UL60601-1 and CAN/CSA C22.2 No. 601.1-M90 and EN 60601-1 standards.

Models and Ordering

058-710
Table, Combination, Sound Pro™ 115 VAC
Includes: hand and foot controllers, folding side rails, articulating scanning arm board, retractable stirrups, IV pole and paper dispenser.
058-715
Table, Combination, Sound Pro™, 230 VAC
Includes: hand and foot controllers, folding side rails, articulating scanning arm board, retractable stirrups, IV pole and paper dispenser.
Related:
058-704
Chair, Ergonomic, Sonography
Optional:
058-738
Extension, Headrest
Replacement:
056-612
Table Paper, Hygenic, 12 rolls
18" w x 225' l (46 cm x 69 m)