Doppler Flow Pump - CIRS 769

Perform Sensitivity & Velocity QA on Doppler Ultrasound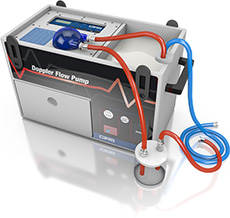 The Doppler Flow Pump is designed to simulate blood flow in a tissue mimicking phantom, and may be used to perform quality assurance testing of Doppler ultrasound devices. The two most common tests are sensitivity and velocity accuracy, but a number of other useful tests are also described in the literature (see references).
The pump is compatible with all ATS and CIRS doppler flow phantoms.
The Pump includes the following components:
A peristaltic pump that provides flow at rates from 0.04 to 750 ml/min, which translates to an average flow velocity of 2-70 cm/s. (Peak flow velocities will be 2-4 times greater than the average flow velocity, because of laminar and pulsatile flow.)
A fluid reservoir pre-filled with CIRS Doppler fluid. Replacement fluid may be ordered separately.
A pulse dampener that converts the pulsatile flow from the peristaltic pump into constant velocity flow.
Convenient color-coded tubing with quick-disconnect fittings.
Graduated cylinder for purging phantoms of Doppler Fluid after each use. Also useful for calibrating the pump.
Pump-to-USB cable, allowing the pump to be programmed to mimic a human pulse. Instructions and examples are included.
Features
Used in conjunction with ATS Urethane or Zerdine phantoms
Max Flow Rate is 750 mL/ min
Min Flow Rate can be as low as 0.04 mL/ min*
Pulsatile or Constant Velocity configurations available
Doppler fluid simulates acoustic and physical characteristics of blood
All components stored in compact case for easy transport
*Actual value will vary depending on phantom used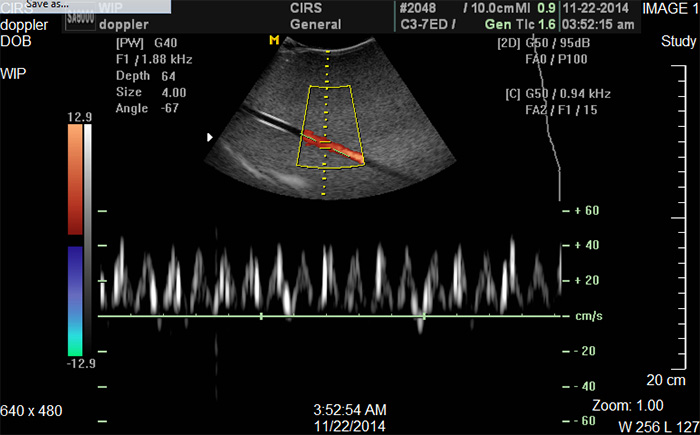 Doppler Ultrasound Flow Phantom showing pulsatile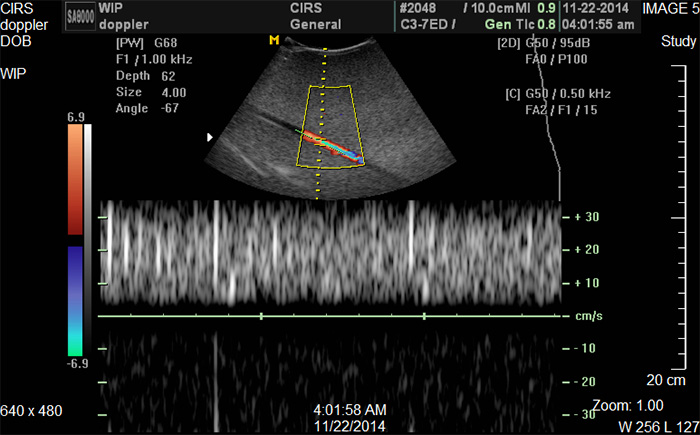 Doppler Ultrasound Flow Phantom showing continuous flow
Specifications

Doppler Flow Pump

Motor Type
Step motor
Motor Steps Per Revolution
200
Microstepping
1/8 to 1/1 depending on motor speed
DC Connector
2.1mm, center positive
Voltage at DC Connector
24V DC at full load
Amperage
900mA at full load
Power Supply Type
Unregulated linear external wall adapter, country and power source specific
Power Supply Output Raiting
24V DC @ 1A
Dimensions
9" x 4" x 8" High
(23cm x 10cm x 20cm)
Weight
4.51 lbs. (2.05 kg)
Maximum Speed
372 rpm
Minimum Speed
0.0168 rpm
Maximum Pumping Rate
775.2 mL/min with 3/16 ID tubing
Minimum Pumping Rate
0.04 mL/min with 3/16 ID tubing

Doppler Fluid

Property
Human Blood (37°)
Doppler Fluid (22°)
Viscosity (mPa)
3
4 ± 0.5
Velocity (m/s)
1583
1570 ± 30
Attenuation (dB/cm/MHz)
0.15
< 0.1
Backscatter (f4 m-1 sr1)
4x10-31
Not Measured
Fluid Properties
Non Newtonian
Newtonian
"Validation of a New Blood-Mimicking Fluid for Use in Doppler Flow Test Objects",
K. Rammnarine, et. al., Ultrasound in Medicine & Biology, Vol. 24. No. 3, pp.454.

Compatible Phantoms

Model
Description
ATS 524 & 525
Peripheral Vascular Doppler Flow Phantom
ATS 523 & 523A
Cardiac Doppler Flow Phantom
069A
Doppler Flow Phantom
Custom phantoms are available upon request. Contact customer service at sales@supertechx-ray.com for more information.