CDRH Dental Image Quality Test Tool 76-025

Meet JCAHO standards regarding radiographic quality control.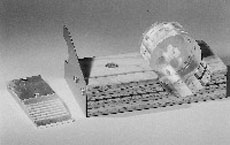 Designed to meet the requirements for the NEXT* dental survey protocol
Conforms to Center for Devices and Radiological Health (CDRH) specifications
Provides a means of reproducible setup, ensuring a consistent test protocol
Cost-effective; reduces the need for repeat films
Reduces setup time
Increases patient safety
Minimizes chance of misdiagnosis
Ideal for dental service engineers and inspectors
The CDRH Dental Image Quality Test Tool (Model 76-025) is designed specifically for testing the functionality of dental x-ray units, and provides a means of evaluating half value layer, determination of kVp, and assessing overall image quality. It is the only dental test tool designed with dental service personnel and inspectors in mind.
The test tool will significantly improve the ability of service personnel to quickly and accurately survey the image quality of the x-ray unit. The CDRH Dental Image Quality Test Tool can also be used as a constancy check for x-ray film processing, making it the most versatile and cost-effective dental test tool available today.
Clinical imaging involves diagnosis of tooth pathology. In order to permit an accurate simulated clinical image evaluation, the test tool contains a human tooth encased in its center. The CDRH Dental Image Quality Test Tool (Model 76-025) consists of a wooden cradle (to hold the test tool body), built-in slots (for attenuation filters), a film slot, an exposure chamber holder, and a mounting screw (for use with a tripod). The test tool comes with an aluminum step wedge that is designed for evaluating darkroom fog and consistency testing. The step wedge has two slots, one for exposing a film pack and one for evaluating darkroom fog. The film slot also ensures easy, reproducible placement of the film for consistent imaging.
To use the CDRH Dental Image Quality Test Tool (Model 76-025), it is necessary to establish an acceptable baseline or standard for the x-ray unit performance. The test tool should be imaged using the same technical factors that were used to establish the baseline. These images, when compared to the baseline, will allow the user to determine if image quality degradation is occurring so appropriate corrective action can be taken.
*NEXT (Nationwide Evaluation of X-Ray Trends) is a committee of the Conference of Radiation Control Program Directors (CRCPD) that oversees quality control procedures for diagnostic radiology. They issue procedure protocols and guidelines for imaging modalities.
Product Specifications

The test tool includes:

Four different copper wire meshes that have the following lines per- inch ratios: 100, 120, 150, and 200
Four air steps for contrast and density measurements
One human tooth encased in the phantom material

Material:
Wood base; acrylic test tool; type-1100 aluminum step-wedge
Dimensions:
Base 3.94 (w) x 7.87 (d) x 1.93 in (h) (10 x 20 x 4.9 cm)

Test tool 7.6 cm Ø x 5.5 cm long (3 x 2.17 cm)

Step wedge 5.1 (w) x 12.7 (d) x 1.3 cm (h)
Weight:
2.06 lb (0.88 kg)