Collimator/Beam Alignment Test Tool

Model 07-661-7662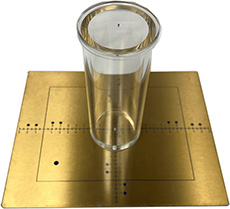 Collimator Verification of the proper alignment of the collimator light field with the x-ray field is essential in radiographic quality control. This device readily indicates a 1% or 2% misalignment at a 40 inch focal-film distance (FFD), but it may be used at any FFD.
It consists of a flat 8 x 10 inch plate with a 14 x 18 cm pattern etched on its surface. It can also be used to check fluoroscopy alignment and collimation.
Beam alignment Improper central ray alignment will distort a radiographic image. This device provides a simple means of determining if the x-ray beam is perpendicular to the image receptor and centered with respect to the light field. A steel ball is mounted in the center of a disc at each end of the 15 cm high clear plastic cylinder. When the balls are positioned over one another and at a right angle to the film, their images will appear as one if the central ray is truly perpendicular to the film. The approximate degree of improper angulation can also be determined.
Specifications
Dimensions beam alignment
5.9 (h) x 2.5 in OD (15 x 006.3 cm)
Weight beam alignment
0.54 lb (0.24 kg)
Weight collimator
0.41 lb (0.19 kg)
Available model(s)
07-661-7662
Collimator/Beam
Alignment Test Tool