PET Dose Drawing System

For drawing FDG F-18 from a vial into a syringe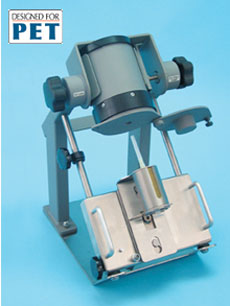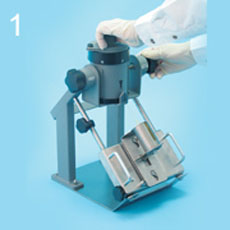 If transported in a Biodex PET Vial
Shipping System, the vial shield is
placed in the stand and secured
with the tightening knob.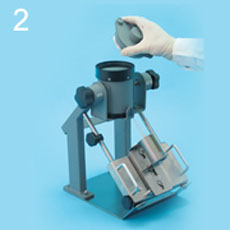 Vial Shield shipping cover is
replaced with the drawingg
shield cover.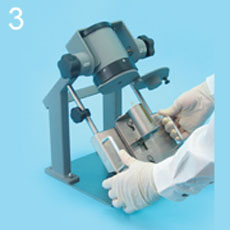 Syringe is placed in the Dose
Drawing Syringe Shield. The vial
shield rotates to a 45-degree
downward angle. Swing open the
cover for vial septum access.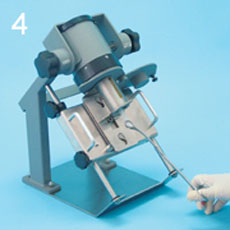 Syringe Shield slides upward,
allowing the syringe to puncture
the vial septum. Dose is drawn.
The Dose Drawing System is used to draw FDG F-18 doses from a vial. It consists of a specially designed Dose Drawing Syringe Shield, vial shield and stand.
When drawing FDG F-18, the vial shield and syringe shield remain on the stand. The stand allows the vial shield to rotate and has a fixed stop at the 45-degree downward angle. The vial shield is constructed of 1" lead encased in steel. The shield's top is threaded to allow quick insertion and removal of vials. The top cover incorporates a pivoting shield for septum access that allows the use of a vent needle, if desired, along with the needle from a 5 cc syringe.
The tungsten syringe shield mounts on a stainless steel rotating platform that slides the syringe into the vial and locks in position. The dose can then be drawn with forceps to minimize hand exposure. The syringe shield is constructed of .55" tungsten. A high-density lead glass window allows viewing up to the 5 cc mark on a 5 cc syringe.
The PET Dose Drawing System provides a safe and shielded environment while making it easy to draw a FDG F-18 dose.
Specifications
007-984 Dose Drawing Syringe Shield
Dimensions: 1.7" dia x 5.5" l (4.3 x 14 cm)
Shielding: .55" thick (1.3 cm) tungsten
Lead Glass Window: .25" thick (.64 cm), 5.6 density
Construction:
- Exterior: Tungsten
- End Cap Mechanism: Stainless steel
Weight: 4 lb (1.8 kg)
001-855 Dose Drawing Vial Shield
Dimensions:
- Exterior: 6.1" h x 4" dia (15.5 x 10.2 cm)
- Interior: 2.76" h x 1.51" dia (7 x 3.8 cm)
Lead Shielding:
- Cylinder: 1" thick (2.54 cm)
- Top End Cap: 1" thick (2.5 cm)
- Cover: .75" thick (1.9 cm)
Construction:
- Exterior: Steel
- Interior: Molded lead
- Top End Cap: Aluminum
- Bottom End Cap: Plastic
- Finish: Powder coat
- Weight: 20 lb (9 kg)
042-455 Dose Preparation Stand
Dimensions: 12.6" w x 10.6" d x 12.6" h (32 x 26.9 x 32 cm)
Construction: Stainless steel and steel
Finish: Stainless steel and powder coat
Weight: 21 lb (9.5 kg)
042-449 2" L-Block Shield
Dimensions: 14" w x 18" depth x 24.7" h (36 x 46 x 62 cm)
Lead Shielding:
- Front: 2" thick (5.08 cm)
- Base: 1" thick (2.5 cm)
Lead Glass Window: Dimensions: 8" w x 8" h x 4" thick (20 x 20 x 10 cm)
Density: 5.2g/cm3
Finish: Powder Coat
Weight: 345 lb (156 kg)
Shipping Weight: 420 lb (191 kg)
042-426 Interlocking Lead Brick Cave
Dimensions:
- I.D.: 14" w x 17.8" depth x 13.8" h (35.5 x 45.3 x 34.6 cm)
Lead Shielding: 2" thick (5 cm)
Finish: Paint
Weight: 532 lb (241 kg)
042-466
Dose Drawing System, PET
Includes: 007-984 Dose Drawing Syringe Shield,
001-855 Dose Drawing Vial Shield,
042-455 Dose Preparation Stand, and
001-707 Vial adapter to accommodate 10 ml vials.
042-467
Dose Drawing System, PET, with L-Block Shield (042-449)
Components
007-984
Syringe Shield, Dose Drawing, PET, 5 cc
001-855
Vial Shield, Dose Drawing, PET, 30 ml
Includes: 001-707 Vial Pig Adapter to accommodate 10 ml vials.
042-455
Stand, Dose Preparation
042-449
L-Block Shield, 2" lead
Related
007-986
Syringe Shield, Dose Drawing, PET, 3cc
007-988
Syringe Shield, Dose Drawing, PET, 2.5cc
007-989
Syringe Shield, Dose Drawing, PET, 5cc
042-426
Lead Brick Cave, 3-wall, 2" lead
Fits 042-428, 042-449, and 042-419 L-Block Shields
Accommodates 042-466 PET Dose Drawing System
066-536
Forceps, Curved, non-locking, 12.5 l" (31.7 cm)