NEMA PET Phantom™

NU 2-1994 NEMA Standard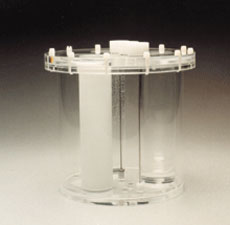 Cylinder contains two line sources:
one solid rod and two fillable tubes
The NEMA PET Phantom™ (NU 2-1994) is designed in accordance with the recommendations by the National Electrical manufacturers Association (NEMA) to standardize the measurement of performance of PET* Fillable inserts are clear Lucite. The solid insert is Teflon. Inserts are inserted thru the lid. Line sources are made of stainless steel.
The Phantom is used for:
PET Acceptance Testing with NEMA standard
Evaluation of:

Scatter Fraction
Count Rate
Uniformity
Attenuation Compensation
Scatter Compensation

Research
Specifications
Attenuation Correction Test
Shown are attenuation image (left) with three inserts
and emission image (right) after attenuation correction
(with region-of-interest shown for data analysis).
Dimensions: 8" dia x 8.98" l (20.3 x 22.8 cm)
I.D.: 7.76" dia (19.7 cm)
Wall Thickness: 0.12" (3 mm)
Volume Without Inserts: 6047 ml
Volume With Three Inserts: 4180 ml
Insert:
Dimensions: O.D.: 2" dia (5.08 cm)
Length: 7.95" (20.2 cm)
Fillable Insert inside diameter: 4.3 cm
Fillable Insert height: 18.3 cm
Fillable Insert volume: ~ 260 ml
| | |
| --- | --- |
| NEMA PET Phantom™ | PET/NEMA94/P |