Ridges Plus® by Octostop®

Consistent Arteriography of Lower Extremities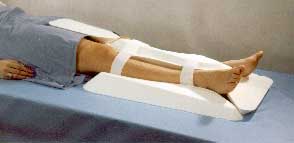 Features
Six tailored silicone rubber filters ensure an homogenous density over a 35 cm width, from the pubis to the feet. "V" extensions fit tall legs.
Filters adhere to the table and the patient, and with supplied Velcro® straps and cushions, provide excellent immobilization.
For unilateral or bilateral examinations.
With or without substraction (DSA and DA).
An opaque ruler is incorporated in the midline filters.
Also used for veinography.
SPECIFICATIONS
MATERIAL:
silicone rubber.
ABSORPTION:
twice that of water.
WEDGE:
nearly 45° all around.
NUMBER:
six (6) components. Sizes (max.): L x W x H in cm.
Main inter-legs filter:
54.5 x 13 x 5 and "V" extension;
Secondary inter-legs filter:
47.5 x 8.5 x 2.5;
Inter-thighs filter:
32 x 14.5 x 7 and "V" extension;
Right and left lateral filters:
64 x 17 x 6.5;
Triangular feet filter:
19 x 38 x 4.
WEIGHT:
10 Kg approximately.
OPAQUE RULERS:
25-cm in inter-thighs; 30-cm in main inter-legs.
VELCRO® STRAPS, 5 cm wide:
60 cm for ankles; 90 cm for knees.
FOAM CUSHIONS:
one trapezoidal and two small prisms.
INSTRUCTIONAL VIDEO:
on CD-ROM.
| | |
| --- | --- |
| *Subject to change without notice. | |
WARNING
Must be used only by qualified personnel, according to appropriate procedures, and under the responsibility of a physician.
OCTOSTOP
®
Inc. and its personnel do not assume any liability regarding the use, indications, consequences, or any situation directly or indirectly related to its products.
Item#
Description
Length
Width
Height
Weight
FI-09
Ridges Plus **Complete Set**
27"
11"
10"
29.7 Lb
Individual Filters for Ridges Plus
FI-09A
Inter-Thigh Filter w/ Ruler 32x14.5x7cm & "V" Extention
9"
13"
2"
3.08 Lb
FI-09B
Main Inter-Leg filters set (2)

Main Filter w/ Ruler 54.5x15x5cm & "V" Extention

Accessory Filter 47.5x8.5x5cm
27"
8"
4'
6.6 Lb
FI-09C
External Right & Left Ridges 57x15x5cm ea.
27"
11"
10"
16.06 Lb
FI--09CR
Extension Accessory "V" Filter
10"
6"
1"
0.07 Lb
FI-09D
Triangular Foot Filter 19x38x4cm
9"
13"
2"
3.3 Lb
FI-09E
Seat of Cushions

1 Trapezodial, 2 Prism (Including ST-05)
8"
8"
8"
0.07 Lb
ST-05
Velcro Straps for Ridges

1-60x5cm, 1-90x5cm
10"
6"
1"
0.02 Lb