Ridges Internal Rotation® by Octostop®

Consistent Arteriography of Lower Extremities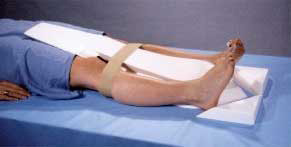 Features:
Five tailored silicone rubber filters ensure a homogenous density over a 35 cm width, from the pubis to the feet.
Filters adhere to the table and the patient, and with supplied Velcro® straps, they provide immobilization with the great toes in contact and the heels separated by a wide inter-legs filter.
For unilateral or bilateral examinations.
Two opaque rulers are incorporated in the midline filters.
With or without substraction (DSA and DA).
Also used for veinography.
MATERIAL:
silicone rubber.
ABSORPTION:
twice that of water.
WEDGES:
at nearly 45° all around.
NUMBER:
Five (5) components. Sizes (max.): L x W x H in cm
Main inter-legs filter:
66 x 25.5 x 6.5;
Accessory inter-legs filter:
60 x 22.5 x 4.5;
Inter-thighs filter:
31 x 20.5 x 6;
Two Triangular feet filters:
27 x 13 x 4.5.
SHIPPING WEIGHT:
11.6 Kg approximately.
OPAQUE RULERS:
25 cm in inter-thighs filter; 30 cm in main inter-legs.
VELCRO® STRAPS, 5 cm wide:
60 cm for ankles; 90 cm for knees.
INSTRUCTIONAL VIDEO:
on CD-ROM.
| | |
| --- | --- |
| *Subject to change without notice. | |
WARNING
Must be used only by qualified personnel, according to appropriate procedures, and under the responsibility of a physician.
OCTOSTOP
®
Inc. and its personnel do not assume any liability regarding the use, indications, consequences, or any situation directly or indirectly related to its products.
Item#
Description
Length
Width
Height
Weight
FI-10
Internal Rotation Ridges® **Complete Set**
27"
11"
10"
26.8 Lb
Individual Filters for Internal Ridges®
FI-10A
Inter-Thigh Filter w/ Ruler
9"
13"
2"
4.4 Lb
FI-10B
Main Inter-Leg Filters (2)

Main Filter w/ Ruler

Accessory Filter
27"
11"
10"
11 Lb

7.7 Lb

3.3 Lb
FI-10C
Triangular Filters set (2)
9"
13"
2"
3.3 Lb
ST-05
Velcro Straps for Ridges

1-60x5cm, 1-90x5cm
10"
6"
1"
0.02 Lb