OCTOSTOP® INGOT® X-RAY Compensating Filter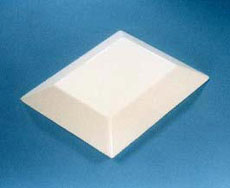 Equals 9 cm of added tissue protection
C-7 may receive a much higher MAS, while the INGOT protects C-1 to C-6
Two useful lengths: 25 and 15 cm approx.
Holds vertically with Velcro® strap
Pliable - Washable
Twice the density of Muscle
Use for:
C-7
L-5
MID-DORSAL SPINE
DORSO-LUMBAR SPINE
HIP in profile (Danielou)
GREATER TROCHANTER
CALCANEUM
Specifications:



FI-02 INGOT with strap: L29 x W19 x H4.5 cm approx.; 1.8 kg
ST-12 STRAP only: 2.5 x 130 cm
WARNING
Must be used only by qualified personnel, according to appropriate procedures, and under the responsibility of a physician.
OCTOSTOP
®
Inc. and its personnel do not assume any liability regarding the use, indications, consequences, or any situation directly or indirectly related to its products.