OCTOSTOP® GENTLE SLOPE® X-Ray Compensating Filter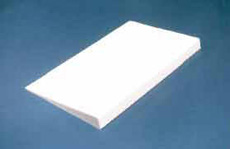 Pliable - Washable

Twice the density of muscle
Finger and toes are much thinner than the wrist and back of the foot. It would be a miracle to find a technique suitable to such variations in thickness. These are precisely the marvels that the GENTLE SLOPE allows. Cassette and filter become inseparable.

Oblique view of one foot and a simultaneous lateral of the other

SPECIFICATIONS:



FI-03 GENTLE SLOPE:
L30 x W17 x H2.3 cm approx.; 800 g.

FI-03A HALF GENTLE SLOPE:
L30 x W17 x H1.1 cm approx.; 500 g




WARNING
Must be used only by qualified personnel, according to appropriate procedures, and under the responsibility of a physician.
OCTOSTOP
®
Inc. and its personnel do not assume any liability regarding the use, indications, consequences, or any situation directly or indirectly related to its products.