The Boomerang - OCTOSTOP - X-Ray Compensating Filter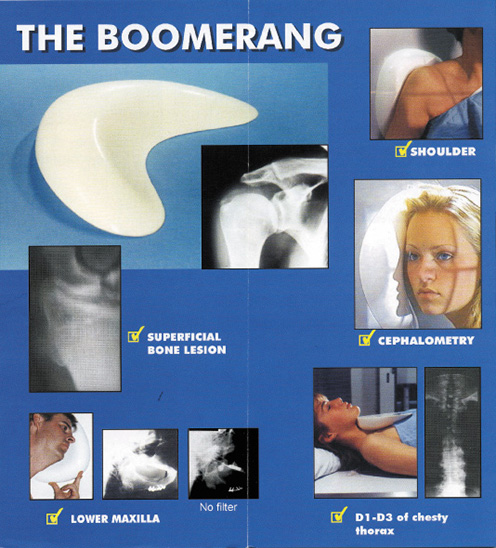 Features:
The first compensating filter used next to the patient
Avoid overexposure of subtle peripheral lesions
Opaque chain incorporated at the periphery, always beyond the skin
Adheres vertically with every little pressure
Resists alcohol, Zephiran® and heat
Used for:
Shoulder
Lower Maxilla
D-1 to D-3
Rotule
Cephalometry
Superficial Bone Lesion
Specifications:

FI-01
Regular Boomerang
L29 x W19 x H4.5 cm approx 1.2 kg
FI-01A
Boomerang with incorporated Velcro
FI-01NC
Chainless Boomerang
*The filter may cause artifacts in images. This filter does not have the chain. The purpose of the chain is to indicate where the filter is, to help prevent mis-diagnosis. We strongly recommend the filter with the chain.*
FI-06
Boomerang 15"
L21 x W7 x H3.3 cm
WARNING
Must be used only by qualified personnel, according to appropriate procedures, and under the responsibility of a physician.
OCTOSTOP
®
Inc. and its personnel do not assume any liability regarding the use, indications, consequences, or any situation directly or indirectly related to its products.