57-437 Thin Wedge Filter Clear-Pb® - Hip Girth Under 28cm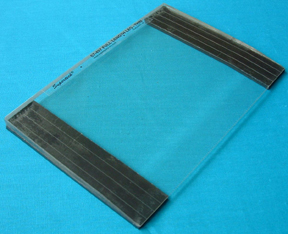 Thin Wedge Compensation Filter is made of a lead-plastic material that is 30% lead by weight. Since lead is an efficient absorber of x-rays, the filters will attenuate the x-ray beam. By varying the shape and thickness of the filters, many combinations of filtering action can be achieved from almost complete attenuation to full penetration.
CLEAR-Pb® Filters should be used with a rare-earth film/screen combination to improve image quality and keep patient exposure to a minimum. CLEAR-Pb® Compensation Filters are not compatible with gradient speed intensifying screens. Consult your film manufacturer for the proper film/screen combination.
Clear Pb® Filters Normally in Stock!
Used for:
AP scanograms, for determination of long-leg length discrepancies
Filter Benefits
Improve image quality
Filters are 30% lead by weight
Reduce the need for multiple exposures
Ensure a more uniform image density
Reduce patient exposure by selectively attenuating the x-ray beam
Lightweight, easy to use
Mounts to any collimator
Collimator light field is never blocked