iSupertech App

Digital X-Ray Technique Calculator
General Description
The iSupertech Digital X-ray technique calculator includes techniques for 10 different X-ray systems. There are 163 exams, selection of patient size of small, medium, and large, giving over 18,000 techniques in the app.
You will find either a TT or B/G next to each body part. The TT stand for tabletop and means the image was taken without the use of a grid. The B/G stand for Bucky/Grid and means that a grid was used either with or without a Bucky.
Always pay attention to the SID column. We did not put in both 40" and 72" SID's for the same body part. Using the Direct Square Law (similar to the Inverse Square Law) a 72" SID will need 3.2 times more mAs than a 40" SID.
You will quickly notice that the kV is significantly higher than we previously used with film. Without the use of film/screen emulsion, the new optimum kV is 15-20 higher than what was previously used.
Patient Size

Male Size
Weight
Small
120-160 pounds
Medium
160-200 pounds
Large
200-240 pounds
Female Size
Weight
Small
110-150 pounds
Medium
150-190 pounds
Large
190-230 pounds
The only pediatric techniques provided are the newborn, infant, and child chest techniques. These three are categorized by weight, with the newborn being 2-9 lbs, infant 10-20 lbs, and child 25-35 lbs. As there is only one technique, we used the middle of the range for each. For example, the infant would be based on 15 lbs.
Almost every manufacturer uses a different Exposure Index (EI) number system. Because of this, we have created individual write-ups for each vendor. You can see each one by touching the lowercase "i" in the blue circle on the technique result screen near the top right. There you will be able to read about how that particular manufacturer set up their EI ranges and mathematical formulas it takes to figure out the perfect Target Exposure Index (E.I.) number.
The goal with each technique is to keep the mAs and dose as low as possible while achieving a quality image.
Key Features
10 Systems
163 exams
One-time purchase
Over 18,000 techniques - small/med/large patient selection
A portion of the data is published in Merrill's Atlas of Radiographic Positioning and Procedures
Compatible X-Ray Systems

CR


Agfa (LgM)
Carestream (EI)
Fuji (S) New EI Ranges
Konica (S) New EI Ranges

DR


Canon-Siemens (EXI)
Carestream (EI) With EI Ranges
GE
GE (DI) New EI Range
Konica (S)
Philips (EI_s)
Siemens (EXI) New EI Ranges

How it Works
Home Screen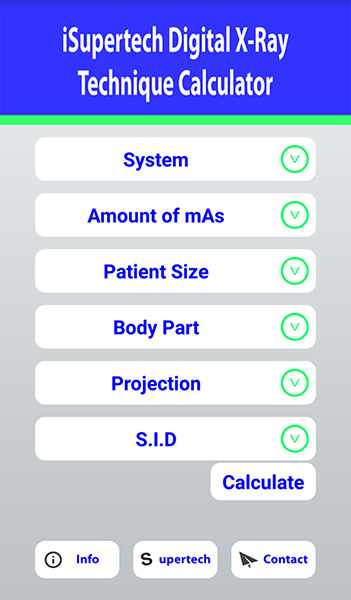 *Does not save techniques
System Requirements

iPod, iPad, or iPhone
iOS 7 or higher

iSupertech APP WILL NOT WORK ON PREVIOUS VERSIONS OF iOS

Android
3.0 Honeycomb

iSupertech APP WILL NOT WORK ON PREVIOUS VERSIONS OF Android
Installation
Download from iTunes
Download from Google Play
iSupertech App FAQ
What is this app?
The iSupertech app is used for calculation of x-ray technique for CR and DR imaging systems. The techniques are respectful to the concept of ALARA.
What devices are compatible with iSupertech?
For Apple Devices: iOS 7 or higher
For Android Devices: 3.0 Honeycomb or higher
How many imaging systems are on the app?
4 CR and 7 DR systems are on the app at this time. We do not have any representation for the hybrid systems. There is no plan to incorporate hybrid systems because there are too many possible combinations of receptor/ generator.
How many exams are on the app?
150 at this time
How do you use it?
In this order:
Select your System from the scrolling menu.
Select the Body Part.
Select the Projection.
Fourth is the SID.
(Please note that only a couple of exams allow for an SID choice)
Touch the Calculate button.
You will next see the Target Exposure Indicator # Range. This is your "sweet spot."
The "Acceptable Exposure Indicator Range" will be the upper limit that you should go to.
The kVp and mAs for the technique in the Target Exposure Indicator Range is shown.
The lower case letter I in the circle by the Target Exposure Indicator Range takes you to information about that imaging system.
The "info" button at the bottom explains the body habitus basis for the techniques.
Reset allows you to do another technique.
Are you going to add techniques for obese patients and / or pediatric patients?
We're glad you asked because the answer is YES! Anyone who owns the iSupertech App before these additions will get the upgrades for free. Every time we upgrade, we will raise the price of the app.
How much does it cost?
As of Spring, 2015, it is $29.99. This is a one time, lifetime fee. You will receive all upgrades for free. It is attached to your iTunes or Google Play Account. The only time you would have to buy it again would be if you were using Apple and Switched to Android or vice versa.
I think that cost is too much!!
How much did you pay for your last pair of shoes? For many years, Supertech has sold the Supertech Slide Rule for $150 and nobody complains about the price. This app is worth every penny we are charging – it is a professional tool and will help you, especially if you are trained on film/screen and now have to convert your knowledge to the techniques that work best for CR and DR systems. As stated previously, those who buy it now at $29.99 will get all the upgrades for free. We feel the price is fair and have been told by very respected persons that it is actually too low. We have decided to stay steady with our pricing while in this introductory period of the app to the market. It is very easy for someone to say that information should be free... until they are the person who did all the work and put up all the money to make that information come together.
Is the app interactive?
The app requires you to interact for selection of the system, body part, projection, SID, and then calculate. You are not given a chance to amend the results.
I don't like the technique it gave me! The kVp is too high!!!
We have been interested to hear the comments of experienced technologists. In the changeover from Analog systems to CR and DR, there has been a need to amend kVp upward. In doing so, the mAs is lowered. How the image receptors function is variable from manufacturer to manufacturer. The one common ground is that the kVp for CR and DR is higher than it was for Analog systems. In the USA, the technologists sometimes say the iSupertech is "too low". Most say, "Yes! Very good!" Our European customers consistently said that the techniques are too high. You may get a little "noise" in your image. It's ok to have a little noise because that will not disturb the Radiologists ability to diagnose. Too much noise will obstruct and too crispy clean means you have given more radiation dose than was necessary. At that point, you are probably not following the ALARA Principle.
Who did these techniques for you?
The iSupertech is a collaboration between Supertech, Dev App Central, and Dennis Bowman of Digital Radiography Solutions. Dennis is well respected for his knowledge of Digital X-Ray Technique. He has spoken all over the world and was a speaker at the RSNA meeting in the past. Dennis is the person who is working with Merrill's Anatomy for Technique. We feel we have the best of the best on our team.
Why are the techniques in this app different from the CR/DR techniques in Merrill's Anatomy?
The techniques in Merrill's Anatomy are not system specific. The techniques in the iSupertech app are system specific and give results that are easier to work with.
Is the app "sticky"? Will it remember the last technique I did?
No. We did not make the App to be sticky.
We hope this FAQ is helpful and answers your questions. If not, please feel free to contact us: sales@supertechx-ray.com If we do not have the answer, we will find out for you from our app developer and / or technique Guru.