CT Dose Nested Phantom Set 76-424-4156ST

Pediatric / Adult Head & Body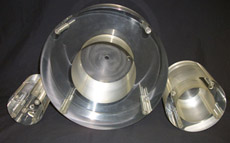 This set of nested CTDI Phantoms are each made from a solid casting (no glue lines in image) and have a solid center back that keeps the inner pieces from sliding through. This set may be used with any CT system to collect the data for maximum, mid-range, and minimum values of the tomographic section thickness.
The set consists of 3 pieces that when fully assembled are used for the adult body. The two smaller pieces are assembled to use for an Adult Head / Pediatric Body. The inner piece is used for the Pediatric Head. Each piece of this set comes with "4" - .515 holes drilled 1cm from the outer diameter and the center phantom has a center hole. Acrylic rods are supplied to fill all the holes.
The CT Dose Phantoms were designed in accordance with the Food and Drug Administration's performance standard for diagnostic x-ray systems, which includes regulations specifically applicable to CT systems (21 CFR 1020.33).
| | |
| --- | --- |
| | |
| Phantom shown with inner parts extended | Assembled Phantom |
Phantom includes a rugged rolling case with telescoping handle to make transporting and storage easy and convenient.
CT Nested Dose Phantom
76-424-4156ST
Actual Weight
Assembled Weight
Diameter
Center
Pediatric Head
3 lbs
3 lbs
10 cm
Center + Middle
Adult Head / Pediatric Body
5 lbs
8 lbs
16 cm
Center + Middle + Outer Ring
Adult Body
25 lbs
33 lbs
32 cm
Phantom + Case Shipping Weight
65 lbs