QUART mamFS - 12303

Universal Mammography Test Phantom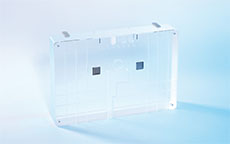 The QUART mam FS phantom is designed to be used for QA/QC testing in conventional mammography applications according DIN/IEC requirements.
Only one exposure is required to collect all parameters to determine the imaging quality of the x-ray system. After the exposure, the test image is evaluated visually.
The QUART mam FS phantom complies with IEC 61223-3-2, DIN 6868-7 and DIN 6868-152, as well as the "European Guidelines for Quality Assurance in Mammography Screening" (EPQC), Part 1.
MODE OF OPERATION
QC tests are carried out at initial equipment installation to establish a visual reference. On a regular routine basis, they are meant to ensure the constancy of the system's imaging capabilities.
Any deterioration in imaging performance is revealed by the visual evaluation of the test images. The evaluation of grey values, as traditionally required for conventional x-ray technology, is carried out using a densitometer.
A simple assessment of image quality for digital mammography systems is also possible.
Technical Specifications
INTERNAL FILTRATION: 45 mm PMMA
SPATIAL RESOLUTION: Circular line pair test object (5/6/7/8/10 Lp/mm; for 0°/45°/90° arrangement; 0.05 mm Pb
or alternatively: 6/8/10/12/16 Lp/mm; for 0°/45°/90° arrangement; 0.05 mm Pb)
REFERENCE MARK: 60 mm from thorax wall side
LOW-CONTRAST: 7 objects
DENSITOMETRY: 3 objects for densitometric evaluation
DOSIMETRY: Insert area for QUART dosemeter detector
FIELD ALIGNMENT: 2 rows of radiopaque balls to check field alignment at thorax wall side
GEOMETRIC ACCURACY: Various structures for field geometry evaluation
ADDED ATTENUATION OPTIONS: Additional 20 mm PMMA slab available on request
SIZE: 240 x 180 x 45 mm (L x W x H)
Parameters
Spatial Resolution
Low-Contrast Resolution
Radiation Field Alignment
Image Homogeneity / Uniformity
Dose Equivalent Value
Artefacts, Image Flaws, etc.