ACR Accreditation Phantom "Digital" Full Field Mammography Phantom
Supertech - 03-502-ST

Made for Supertech by Pro Project - Approved by ACR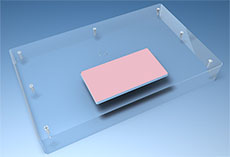 This Full Field phantom was designed to test the performance of a digital mammographic system by evaluating the system's ability to image small structures similar to those found clinically: micro-calcifications, fibrous structures in ducts and tumor-like masses. The FF (Full Field) version covers the entire image detector, thus eliminating scatter.
Technical data (can be modified to customer specifications):
dimensions: 311.2 x 190.5 x 41.3 mm
simulates 42 mm compressed breast of average glandular/adipose composition (50%/50%)
wax insert:

nylon fibrils diameters: 0.89, 0.75, 0.61, 0.54, 0.40 and 0.30 mm
microcalcifications: 0.32, 0.28, 0.23, 0.20, 0.17 and 0.14 mm Al2O3 specks
tumor-like masses: 1.00, 0.75, 0.50, 0.38, 0.25 and 0.20 mm thick

comfortable carrying case (optional)
Product features:
Complies with:

IEC 61223-3-2
Approved by ACR for Accreditation in USA

CE certified
the Manual provides detailed guidelines for carrying out each test, results assessment and registration
Models and Ordering

Item Number
Item Name
Item Description
03-502-ST
Supertech-FFDM
ACR Accreditation Phantom "Digital" Full Field Mammography Phantom
Supertech - 03-502-ST (Case Included)
Approved by ACR for Accreditation in USA
Here is the Announcement for ACR Approval
Supertech, Inc. Approved to Sell New ACR Digital Mammography Phantom
November 17, 2017
The American College of Radiology has approved Supertech, Inc. to produce and sell the new ACR Digital Mammography Phantom. Supertech, Inc. earned this approval by submitting sample phantoms for testing and evaluation by an independent medical physicist. The sample phantoms met the required specifications, tolerances and performance requirements. The new phantom is intended for use with the ACR Digital Mammography Quality Control Manual.
View the ACR Digital Mammography QC Manual: Frequently Asked Questions.