Gonaprons™

Smart and Sanitary Gonad Shield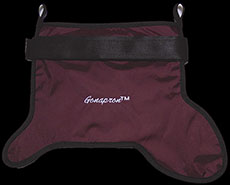 Why You Need: smart and sanitary gonadal shielding.
For years, the Radiologic Technologist (RT) has been forced to use a wide variety of impractical gonadal shielding devices with-out prior scholastic or professional instruction on how to do so. This has led to un-wanted repeated x-rays, that exposes patients to harmful radiation. Not to mention how easily the small, medium and large gonadal shields are lost, raising the overhead of hospital and imaging center unnecessarily.
You're looking at an AP Pediatric chest x-ray using the Gonapron™ enclosed in the protec-tive Gonabag™. The Gonaprons™ patent pending design allows for sturdy reliability while the Gonabag™ is a disposable plastic bag contoured to the Gonapron™ for seamless use.
Helping you achieve your shielding goals.
The Gonapron is an innovative approach to Radiation Safety's third cardinal rule, shielding. The Gonapron™ a .5mm lead equivalent tri-shielding device with a 3.5" pediatric gonadal shield, a 6" adult gonadal shield and a 10" X 12" half apron built all in one. This groundbreaking design allows your RT to find even the tiniest 3.5" pediatric gonadal shield just as quickly as they would spot a much larger 13" x 18" lead garment. This translates into fewer missing gonadal shields and less overall expense. Plus, each Gonapron™ comes with a fully illustrated positioning guide for instant professional instructions.
| | |
| --- | --- |
| Gonabag™ on apron | Gonacenter™ with Gonapron™ stored. |
When used with a disposable Gonabag™ The Gonapron™ becomes the worlds first true single-use, sanitary gonadal shielding device. It's safe to use with direct contact, reverse isolation patients, in cradles, basinets, and incubators, fills every imaging application. For erect X-rays, we have The Gonabag Plus™, with a 52" plastic strap and a re-attachable adhesive surface. Both easily dispensed from The Gonacenter™ where The Gonapron™ is stored to keep it in like new condition.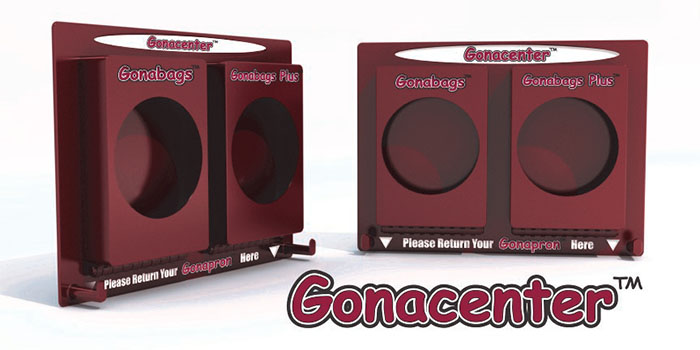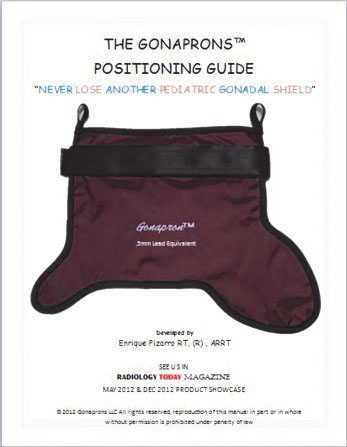 The Gonaprons™ Positioning Guide takes excellence in procedural innovation to the next level. Now, a Radiologic Technologist no longer has to guess were to place the shield on a patient. The easy to understand, step by step instruction and illustration guide makes accurate placement of gonadal shielding a certainty, each and every time.
The Gonaprons™ Positioning Guide
The secret is in The Gonaprons™ anatomy and cross matching it with the bodies anatomical landmarks to get reproducible results without obstructing the anatomy of interest.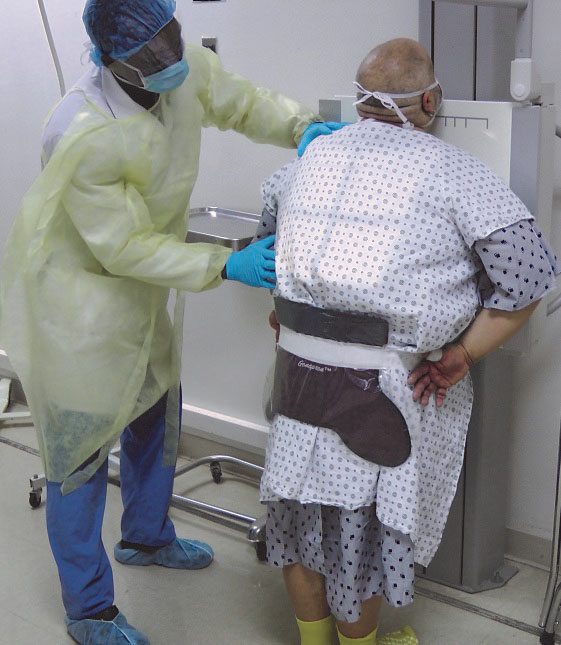 Gonabag Plus™ in use
Item
Description
Gonapron™
Universal x-ray blocking .5mm lead equivalency universal gonad shield and half-apron
Gonabag™
Plastic sanitary bag Gonapron™ protector, 50 pcs per case
Gonabag Plus™
Plastic bag for sanitary shielding of Gonapron™ during erect x-rays with 52" strap and re-attachable adhesive surface, 50 pcs per case
Gonacenter™
Store the Gonaprons", and dispense the Gonabag", and Gonabag Plus" for easy access
Gonacounter™


Coming Soon!

Coming Soon!


Lead apron and lead shielding software. Used with barcoding system to track inventory/ integrity testing