Cool Comfort™ Vest

Under Your X-ray Protective Wear ~ the "Cool Comfort™ Vest"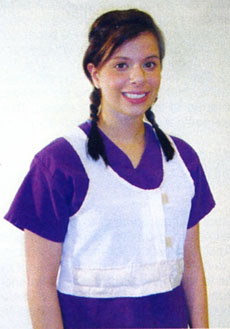 Do those long procedures get you overheated and tired? Cool Comfort™ can take the heat off you. Worn under X-ray aprons, vests or sterile gowns this little wonder feels great . . . as it takes the heat off critical areas and helps to reduce fatigue.
Just refrigerate Simply Cool before its time to go to work and in less than 20 minutes your heat relief is ready to go. Simply Cool provides much needed cooling to your body that will help get you through the day.
Aadco's Proprietary Gel Packet Inserts are what makes the vest work. Storing up much needed cool relief while in the fridge, they make you feel cool and comfortable when you wear them.
And they're removable. Comes with 1 set of gel packs. Additional sets of Gel packs are sold separately, so you can have a second set in the fridge that's ready to go for the next procedure.
Cool Comfort™ Vest

Size
Cat #
Small
LP-031
Medium
LP-032
Large
LP-033
X-Large
LP-034
Extra Set of Gel Packets
LP-039