Dental Radiography Head Phantom - PH-47 - Kyoto Kagaku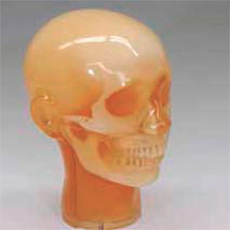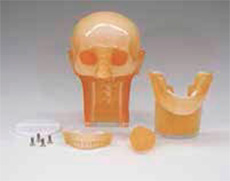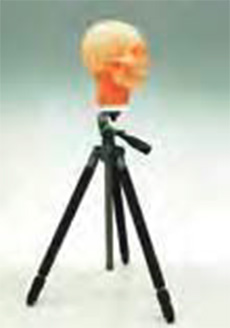 The phantom comes
with a tripod stand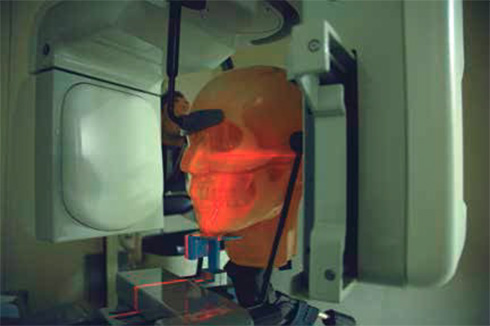 Dental Radiography Head Phantom is designed for extra-oral (panoramic) radiography featuring state-of-the-art synthetic teeth with internal structures. Removable jaws and tongue allow a variety of application for training and research.
Features:
Each tooth is individually modeled and has a three-layer structure of enamel, dentin and pulp cavity.
Each hard tissue (enamel, dentin, cortical bone and cancellous bone) has a particular HU number and X-ray absorption rate.
Jaws and tongue are detachable to allow access to the oral cavity, pharyngeal cavity and maxillary sinus. Censors or simulated lesions or residue can be set in these cavities.
Carotid arteries are prepared as lumens to accommodate simulated calcifications.
Training Skills and QA Applications
Extra-oral (Panoramic) radiography
Intraoral radiography*
Dental CT
Cephalography and other head radiography
*with closed mouth position
Anatomies
Synthetic skull with nasal cavity, maxillary sinus, hyoid bone, mandible alveolar, and maxillary alveolar; cervical vertebrae and hyoid bone, teeth with enamel, dentin and pulp cavity.
Tongue, oral cavity, pharyngeal cavity and carotid arteries
Specifications
Set Includes:
1 main head unit
1 upper jaw (alveolar bone)
1 lower jaw (alveolar bone)
1 tongue
1 fixation base (including screws)
1 tripod
1 aluminum storage case