Vasc Pro™ Vascular Ultrasound Table
058-732 (115v) / 058-733 (230v)

The ergonomic choice for long-leg vascular studies.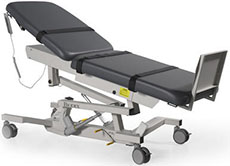 The Biodex Vasc Pro Ultrasound Table is the economical choice when performing vascular scanning. The table design will help improve images by providing dramatic 30-degree reverse Trendelenburg positioning. The foot support and body straps stabilize the patient safely throughout the procedure.
The Vasc Pro Table is so accommodating it reduces the total amount of time required to achieve a quality image. The 30-degree positioning expands lower extremity veins for maximum vessel dilation and faster and easier recognition of structures. Patient comfort is assured, even through lengthy procedures by a thick mattress and table adjustability, including Fowler positioning to 80-degrees.



Optional side rails are flush to the table,
enabling closer access to the patient,
without sonographer contortion.




Fowler positioning to 80-degrees
accommodates natural body extension
and sitting position without slide or shift.
Additional accessories available: foot controller, vascular scanning arm board, folding side rails, IV pole and paper dispenser.

Specifications
Dimensions: 73" l x 30" w (185.4 x 76.2 cm); 35" w (88.9 cm) with optional side rails
Height Adjustable: 23" to 39" (58.4 to 99 cm)
Tabletop: Two primary sections: torso section with Fowler positioning; lower body section remains fixed
Mattress: Torso section 2" (5 cm) thick, lower body section 3" (8 cm) thick; foam rubber pad covered with seamless, durable Naugahyde®
Upholstery Color: Graphite
Motions:
- Height Adjustable: 23" to 39" (58.4 to 99 cm)
- Trendelenburg: 0° to 15°
- Reverse Trendelenburg: 0° to 30°
- Fowler Back: 0° to 80° infinitely adjustable
Controls:
- Hand Control: Activates height, Trendelenburg motions, Fowler positioning and auto level motions
- Foot Control (optional): Activates height, Trendelenburg motions, and Fowler positioning
Wheels: 5" (12.7 cm) Individual locking swivel casters; central floor locking system
Patient Restraints: Three body straps
Finish: Powder coat
Patient Capacity: 500 lb (227 kg); weight tested to four times the patient load rating.
Weight: 335 lb (152 kg)
Power: 115 VAC or 230 VAC
Warranty: Two-year
Certifications: ETL and cETL Listed to UL60601-1 and CAN/CSA C22.2 No. 601.1-M90 and EN60601-1 standards.

Models and Ordering

058-732
Table, Vascular Ultrasound, Vasc Pro™, 115 VAC
Includes Hand Controller.
058-733
Table, Vascular Ultrasound, Vasc Pro™, 230 VAC
Includes Hand Controller.

Related:

058-704
Chair, Ergonomic, Sonography

Optional:

058-741
Foot Controller
058-633
Side Rails, Folding
058-736
Arm Board, Articulating Scanning
058-737
IV Pole
058-611
Dispenser, Paper
with Cutter Strap
058-738
Extension, Headrest

Replacement:

056-612
Table Paper, Hygenic, 12 rolls
18"w x 225' l (46 cm x 69 m)
*Note: Options are installed by the customer