C-Arm Table Options
Table Accessory Clamp 058-849
Carbon Fiber Arm Board 056-865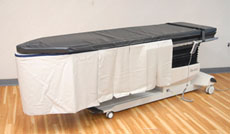 Protect yourself from scatter radiation. Biodex offers maximum protection Scatter Radiation Shields, designed to fit all Biodex C-Arm tables. These shields are custom fitted to match the unique contours of the Biodex tabletop. Constructed of 0.5 mm lead equivalent panels, the shields do not impede C-Arm access.
There are two shields available. One is designed to be used at the head end of the table for head and cervical procedures. The other is used at the main section of the table during thoracic or abdominal procedures.
The shields are easy to add or remove as needed. There are no attachment parts necessary, no metal to obscure the image. The shields simply drape over the tabletop, beneath the mattress. Shields are purchased individually and may used in combination for total protection or for select region of interest.
Table Accessory Clamp 058-849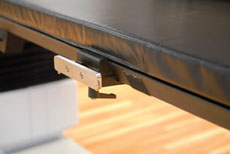 The Biodex C-arm Table Accessory Clamp is designed to mount to all Biodex carbon fiber top C-arm tables. It is used to attach a table accessory, such as arm boards or fistula boards that require standard OR accessory railing. The clamp will accommodate any standard OR locking block, and can be placed anywhere along the length of the table to provide six inches of OR accessory rail.
Carbon Fiber Arm Board 056-865
Carbon Fiber Arm Boards are completely radiolucent with no metal parts to obscure the image. They are the perfect accessory for studies when "casing the bolus" from the injection site is required. The body of the arm board slides under the table mattress and is held in place by the weight of the patient. Both single and double sided arm boards are available.
Optional:
058-856: Radiation Shield, Head/Cervical
058-857: Radiation Shield, Thoracic/AB
056-865: Arm Board, Carbon Fiber, one arm
056-866: Arm Board, Carbon Fiber, two arms
Fits Surgical C-Arm Tables 840, 846 and 870 Pain Management Table
058-849: Clamp, Accessory, C-Arm Table