Surgical C-Arm Pain Management Table Biodex 058-870

Ideal for pain care applications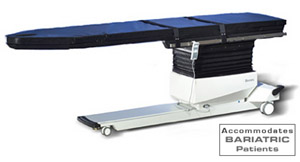 Featuring a large radiolucent area, motorized actuation of height, lateral roll and Trendelenburg motions, the 870 is ideal for pain care applications.
Innovative Contour Design Top
Biodex C-Arm tables feature a uniquely contoured tabletop. This design fully accommodates C-Arm positioning for closest possible access to the cervical spine, achieving optimum image resolution. A second benefit to the contour design is the added workspace at the head end, while maintaining the narrowness required for cervical procedures.
Accommodates portable or ceiling-suspended C-Arms
Designed for procedures where stability, access, and precise, quiet, vibration-free positioning are essential, the Pain Management C-Arm Table is excellent for image-guided procedures. A cantilevered low attenuation carbon fiber tabletop accommodates portable or ceiling-suspended C-Arms. The radiolucent area is free of cross members, allowing full fluoroscopic visualization and unobstructed C-Arm positioning. Functional design provides complete access with reduced radiation exposure to clinicians. Patient comfort and stability are assured by two-inch thick table padding and three adjustable straps with VELCRO® brand hook and loop fastening. A face cutout is provided for prone positioning.
As required by law, all Biodex C-Arm tables are CDRH registered and FDA Device Listed. All motorized tables are ETL product listed to the UL-60601-1 Medical Electrical Equipment Safety Standard.
Quick, safe control.
| | |
| --- | --- |
| Hand-Held Controller | A portable hand-held controller and optional foot-operated controller can be positioned for convenient access from any point around the table. The portable hand-held and optional foot-operated controllers offer the freedom to adjust height, lateral roll, and Trendelenburg motions from locations away from the table, or when hands are busy with other functions. The hand-held controller hangs on an accessory rail when not in use. |
Specifications
Dimensions: 93" l x 26" w (233 x 66 cm) with OR accessory rails
Tabletop: 90" l x 24" w (228.6 x 61 cm)
Radiolucent Area:
- 60" l x 24" w (152.4 x 61 cm) unobstructed head to accessory rail
- 4" l x 17.5" w (10.1 x 44 cm) additional, between accessory rails
- Radiolucent Area, Total Length: 64" l (160 cm)
Tabletop Material: Carbon fiber with integral head section
Mattress: 2" thick (5 cm)
Attenuation:
- Tabletop: .7 mm Aluminum equivalence
- Mattress: .5 mm Aluminum equivalence
Motions:
- Height Adjustable: 30" to 40" (75 to 100 cm)
- Trendelenburg: 0° to 20°
- Reverse Trendelenburg: 0° to 20°
- Lateral Roll: 0° to 20°
Controls:
- Hand Control: activates height, lateral roll and Trendelenburg motions
Optional:
- Foot Control: activates height, lateral roll and - Trendelenburg motions
Wheels:
- Head End – 3" (7.62 cm) swivel casters, integral locking system on base
- Foot End – 5" (12.7 cm) swivel casters with central locking
Accessory Rails:
- Standard OR accessory rails 30" x 1.12" x .375"
- (75 x 2.86 x .95 cm) mounted near foot end of table
Patient Restraints: Three body straps
Finish: Powder coat
Patient Capacity: 500 lb (227 kg); weight tested to four times the patient load rating.
Lift Capacity: May vary between 460 lb - 500 lb (209-227 kg) based on line voltage
Power: 115 VAC or 230 VAC
Warranty: Two Years
Certifications: ETL and cETL listed to UL-60601-1®, CAN/CSA© C22.2 No.: 601-1-M90, EN 60601-1, IEC 60601-1-2

Which C-Arm Table is right for you? Compare
058-870:
Table, Pain Management C-Arm, 115 VAC
058-875:
Table, Pain Management C-Arm, 230 VAC
Optional:
058-877:
Controller, Foot
056-850:
IV Pole, Rail Mounted
056-865: Arm Board, Carbon Fiber, one arm
056-866: Arm Board, Carbon Fiber, two arms
Fits Surgical C-Arm Tables 840, 846 and 870 Pain Management Table
058-864: Arm Board, Surgical, Carbon Fiber
058-856: Radiation Shield, Head/Cervical
058-857: Radiation Shield, Thoracic/AB
058-849: Clamp, Accessory, C-Arm Table