Virtually Human Male Pelvis Phantom CIRS 801-P-F

The Next Generation in Anthropomorphic Phantoms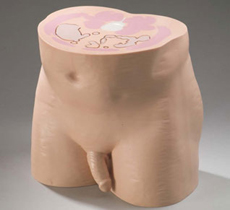 The CIRS Model 801-P-F phantom is the most realistic, tissue equivalent phantom available. It contains anatomically precise bone, cartilage, spinal cord, vertebral disks, muscle, intestines, bladder, prostate, rectum and interstitial fat. The phantom is made from proprietary epoxy materials that mimic the density and radiation attenuation properties of human tissue within 1% from 50 keV to 25 MeV.
All anatomical dimensions of the phantom are based on The Visible Human Project (VHP) data sets that serve as a reference for the study of human anatomy. Available through the National Library of Medicine, these data sets are commonly used for testing medical imaging algorithms and have also been applied to a wide range of educational, diagnostic, treatment planning, virtual reality, artistic, mathematical , and industrial uses by nearly 2,000 licensees in 48 countries.
Specifications
Overall Dimensions are:
37 cm Tall : Z axis
38 cm Wide: X axis
26 cm Thick: Y axis

Phantom Weight:
55 lbs without case
85 lbs with case included


The VHP Phantom can be purchased uncut or segmented into 25mm thick contiguous sections. CIRS offers a standard hole grid option of 3 x 3 mm. The grid contains 5 mm diameter through holes filled with homogeneous tissue equivalent plugs for TLD placement. Hole locations are optimized for internal organ dosimetry. Ion chamber cavities, other grid patterns and hold diameters are available upon request.